April 03, 2015
Training Pediatricians to Screen For Depression Can Improve Care
the Psychiatry Advisor take:
Although depression among adolescents is underrecognized and undertreated, training pediatricians how to screen and assess depression in these patients could improve their mental health.
Elise Fallucco, MD, a child and adolescent psychiatrist at Nemours Children's Specialty Care in Jacksonville, Fla., and colleagues found that the additional training increased pediatricians' knowledge of mental illnesses and led to more screenings of adolescents.
In the study, which will be published in the journal Academic Pediatrics, the researchers recruited 31 pediatricians to receive additional mental health training. On average, the physicians said they had received an average of just 2.9 weeks of mental health training, including residency.
The pediatricians' training in the study included strategies for screening, assessment, and treatment for depression with antidepressants, as well as practice sessions with actors portraying patients.
About 1,200 patients then participated in the study and were screened for depression by the providers. Follow-up at between 18 and 24 months post-training found that 74% of patients said they had been verbally screened by their doctor, and 95% had completed a self-assessment prior to their visit.
Pediatricians said their knowledge of adolescent depression was maintained more than four to six months after the training, an indication the screenings had been integrated into well-child visits.
"Our simple intervention empowered providers to promote early identification and treatment of adolescent depression by equipping them with the tools and knowledge needed to deliver this care," Fallucco said in a statement.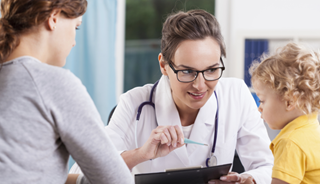 Training Pediatricians to Screen For Depression Can Improve Care
A new study suggests training pediatric primary care providers to screen and assess depression and suicide risk in adolescent patients will improve care.
Researchers discovered additional training improved pediatrician's confidence and knowledge of these conditions and led to increased frequency of screenings for this critical patient population.
The study, to be published in a forthcoming issue of Academic Pediatrics, demonstrates that screening by pediatricians is an effective tool for improving recognition of adolescent depression.
Sadly, many cases of adolescent depression are not recognized, sometimes leading to deadly consequences. Because only 50% of adolescent depression cases are identified and only 38% of diagnosed patients receive treatment, professional guidelines by the American Academy of Pediatrics and the United States Preventive Task Force both recommend primary care screening of the condition.
Sign Up for Free e-newsletters