December 01, 2014
Teens with Anxiety, Sleep Med Rxs More Prone to Substance Abuse
the Psychiatry Advisor take:
Teenagers who have been prescribed medication for anxiety or sleep disorders are up to 12 times more likely to abuse those drugs than teenagers who never had prescriptions, according to a press release from the University of Michigan.
Out of the 2,745 teenagers included in the study, almost 9% had been prescribed either anxiety or sleep medications in their lifetime, reported Carol Boyd, PhD, MSN, FAAN, of the University of Michigan School of Nursing, and colleagues.
The study spanned a 3-year period, during which more than 3% of participants were prescribed at least one anxiety or sleep medication.
The researchers found that adolescents who had been prescribed anxiety medications in their lifetime, but not during the study, were 12 times more likely to use someone else's anxiety medication compared with those who never had a prescription.
Participants who received a prescription during the study period were 10 times more likely to abuse the drugs than those without prescriptions.
Researchers found that demographics affected the participants' likelihood to abuse the drugs. They found that white participants were twice as likely as black participants to use other people's medications. Females aged 15 and older and teenagers who had prescriptions over extended periods of time also had increased risks of abusing the medications.
The researchers recommended better patient and parent education, closer monitoring of refills, and assessing teenagers for substance use before prescribing them these drugs.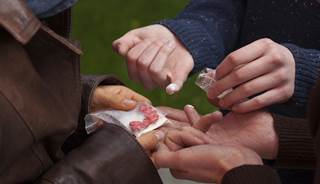 Teens with anxiety or sleep medication prescriptions are more likely to abuse them.
ANN ARBOR—The medical community may be inadvertently creating a new generation of illegal, recreational drug users by prescribing anti-anxiety or sleep medications to teenagers, say University of Michigan researchers.
Teens prescribed anxiety or sleep medications are up to 12 times more likely to abuse those drugs than those who had never had a prescription, either by using someone else's prescription pills or to get high or experiment, according to a study from the U-M School of Nursing.
Nearly 9 percent of the 2,745 adolescent study participants had received a prescription for anxiety or sleep medications during their lifetime, and more than 3 percent received at least one prescription during the three-year study period.
Sign Up for Free e-newsletters