October 16, 2015
Adolescent Mood Swings Gradually Decline With Age
the Psychiatry Advisor take:
Moody adolescents are nothing new. But recent research finds that parents may not need to be concerned over their teen's mood swings as these swings decline as they get older.
Hans M. Koot, PhD, of VU University Amsterdam, Netherlands and colleague followed 474 Dutch adolescents from the age of 13 years old until they turned 18. About 40% of this cohort was found to be at high risk for aggressive or delinquent behavior at age 12.
The teens rated their moods, using Internet diaries, in terms of happiness, anger, sadness, and anxiety during three weeks of the school year for five years. Based on this information, the researchers calculated changes in day-to-day mood and then analyzed whether these showed any developmental changes across the study period.
Over the five-year period, the adolescents' mood became more stable in terms of happiness, anger and sadness, the researchers reported, even though girls had greater variability than boys in terms of happiness and sadness.
However, anxious moods varied over the study period, initially increasing, then declining, and finally increasing again close to the end of adolescence. This may result from the transition to adulthood.
The teens' moods may have stabilized as a result of events that happen in early adolescents, such as first romances which can cause conflict with parents, occur less often as they grow older. In addition, the researchers said that over time, teens figure how to deal more effectively with mood changes.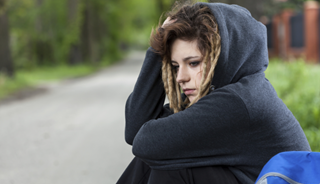 Adolescents' mood became more stable in terms of happiness, anger and sadness between the age of 13 and 18 years old.
The teenage years are a time of heightened emotional arousal and, while normal during adolescence, learning to control emotions is a critical aspect of becoming an adult.
In this context, a new study reviews the development of teens' emotional stability.
The longitudinal study discovered adolescents' mood swings decline gradually as they get older. Researchers believe their findings should reassure parents about their moody teens while also helping parents and others identify when instability is considered risky and requires intervention.
The study was conducted in the Netherlands by researchers at VU University Amsterdam, the EMGO Institute for Health and Care Research, Utrecht University, and Tilburg University. Their findings appear in the journal Child Development.