September 08, 2014
Some Antipsychotics Can Lead to Weight Gain in Adolescents
the Psychiatry Advisor take:
Some second-generation antipsychotics can lead to weight gain in adolescents.
Celso Arango, MD, head of the Child and Adolescent Psychiatry Service at Hospital General Universitario Gregorio Marañón in Madrid, Spain, and colleagues completed a cohort study that included 279 patients between the ages of 14 and 17. Of those, 248 received a single antipsychotic, either risperidone (Risperdal), olanzapine (Zyprexa) or quetiapine (Seroquel).
Patients in the cohort study had either schizophrenia-spectrum disorder, mood-spectrum disorders, disruptive behavior disorders or another type of psychotic disorder.
Weight gain was associated with all three of the medications at one, three and six months of treatment compared to healthy subjects, the researchers reported in the Journal of the American Academy of Child & Adolescent Psychiatry.
However, cardiometabolic effects varied depending on the drug. Glucose levels increased with risperidone and olanzapine. Triglyceride levels increased in those taking risperidone, while total cholesterol increased in those taking olanzapine. Patients taking quetiapine did not experience such fluctuations in cardiometabolic measures.
In addition, the percentage of research participants "at risk of adverse health outcome" increased during the six months from 8.9% to 29.2% for risperidone, (P<0.0001) and 6.8% to 38.1% for olanzapine (P<0.0001). However, it decreased from 6.3% to 4.0% for quetiapine (P=0.91).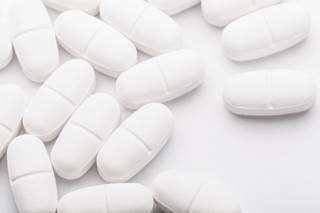 Some Antipsychotics Can Lead to Weight Gain in Adolescents
The objective of the study is to assess weight and metabolic effects of 6 months of treatment with second-generation antipsychotics in naïve/quasi-naïve youths.
This study looked at a non-randomized, naturalistic, multicenter, inception cohort study including 279 patients aged 4-17 (mean=14.6±2.9) years. Of those, 248 (88.8%) received a single antipsychotic (risperidone, olanzapine or quetiapine) and completed 2 visits, and 178 (63.8%) completed the 6-month follow-up. Patients had schizophrenia-spectrum disorders (44.5%), mood-spectrum disorders (23.2%), disruptive behavioral disorders (17.3%), or other disorders (15.1%). Fifteen age-/gender-matched, healthy, non-medicated individuals served as a comparison group.
Sign Up for Free e-newsletters
Check out what's trending