November 21, 2014
Sleep Issues Common in Preschoolers With Psychiatric Disorders
the Psychiatry Advisor take:
Although sleep problems are common in young children with psychiatric disorders, they may be underdiagnosed.
John Boekamp, PhD, of Bradley Hospital in Providence, Rhode Island, and colleagues, looked at 183 young children admitted to an early childhood psychiatric day treatment program to determine the nature and prevalence of sleep disorders, including Sleep Onset Insomnia and Night Waking Insomnia.
Overall, 41% of the toddlers and preschoolers met diagnostic criteria for a sleep disorder, the researchers reported in Child Psychiatry & Human Development. The most common sleep problems in this population are going to bed, falling asleep, and frequent night awakenings.
Sleep problems were most common in those with disruptive behavior, attention, anxiety, and mood problems, the researchers added.
Treating sleep disorders is important in young children as not enough sleep is associated with daytime sleepiness, irritability and hyperactivity, and fatigue can exacerbate behavioral problems.
"Essentially, these young children might be caught in a cycle, with sleep disruption affecting their psychiatric symptoms and psychiatric symptoms affecting their sleep-wake organization," Boekamp said, according to Psych Central.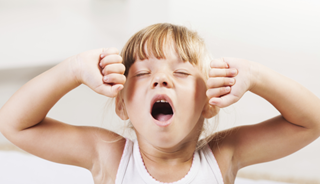 Sleep Issues Common in Preschoolers With Psychiatric Disorders
A new study has found that sleep difficulties, especially problems with falling asleep, are very common among toddlers and preschoolers treated for psychiatric disorders.
These sleep difficulties are often underdiagnosed in children with behavioral and emotional issues, yet can greatly affect well-being, according to John Boekamp, PhD, clinical director of the Pediatric Partial Hospital Program at Bradley Hospital in Providence, Rhode Island.
The most common sleep difficulties reported nationally for toddlers and preschoolers are problems going to bed, falling asleep, and frequent night awakenings, he reported, noting that collectively, these problems are referred to as behavioral insomnias of childhood.
Sign Up for Free e-newsletters