August 04, 2014
Self-Labeling Increases 'Stigma Stress' in Youth at Risk For Psychosis
the Psychiatry Advisor take:
Stigmas are often associated with many types of mental illnesses, and such prejudices can have a negative impact on those being stigmatized.
This is especially relevant for children and adolescents at risk for psychosis. In this population, many tend to self-label – using psychiatric terms to refer to their problems – thereby increasing what is known as "stigma stress."
Nicolas Rüsch, a professor of public mental health in the Department of Psychiatry and Psychotherapy at the University of Ulm, Germany, and colleagues measured self-labeling, stigma variables, and well-being at baseline, and after one year among 77 at-risk youths.
A 2009 study published in Social Science & Medicine found that although relatively few adolescents engage in self-labeling, those who did were more likely to be depressed and trended toward a lower sense of mastery. Also, more perceived public stigma, treatment at a younger age, and higher socio-economic status were associated with self-labeling.
Patients who increased self-labeling during the one-year period had heightened stigma stress, whereas a decrease in the stress predicted greater well being at follow-up, the researchers reported in Schizophrenia Research. The findings were significant after controlling for symptoms, psychiatric comorbidity, and socio-demographic status.
"Besides early intervention programs, strategies are needed to reduce the public stigma associated with at-risk status and to support young people at risk to better cope with self-labeling and stigma stress," the researchers concluded.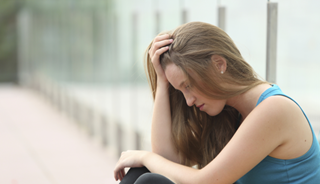 Self-Labeling Increases 'Stigma Stress' in Youth at Risk For Psychosis
Stigma may undermine the well-being of young people at risk of
psychosis
. We therefore measured self-labeling, stigma variables and well-being at baseline and again one year later among 77 at-risk participants.
Sign Up for Free e-newsletters