August 11, 2014
Parental Mood Disorders Effect Child Psychopathology
the Psychiatry Advisor take:
Parents who suffer from mood disorders can significantly impact their children's psychopathology, especially during a manic or hypomanic episode.
Hagai Maoz, MD, with the Western Psychiatric Institute and Clinic at the University of Pittsburgh School of Medicine in Pennsylvania, and colleagues examined parents with a mood disorder, as well as those whose disorder was in remission. Mood disorders included depression and mania. Their children were also given assessments.
Rates of offspring psychopathology were determined using several measures: a clinician-administered Schedule for Affective Disorders and Schizophrenia for School-Age Children (K-SADS); parent-reported Child Behavior Checklist (CBCL); offspring self-reported Youth Self Reports (YSR) for those 11 years and older; and teachers' reports when available.
Compared with parents who were in remission, parents with current depression reported significantly more externalizing psychopathology in offspring on CBCL, the researchers reported in the Journal of the American Academy of Child & Adolescent Psychiatry.
Parents with current mania/hypomania reported more externalizing and internalizing psychopathology in their offspring.
On the YSR, offspring of parents with current mania or hypomania had more internalizing psychopathology compared to offspring of parents in remission. K-SADS and teachers' reports showed no differences between the groups in any psychopathology.
"Clinicians and studies assessing children's psychopathology should take into account parental current mood state," the researchers suggest.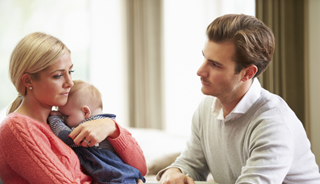 Parental Mood Disorders Can Influence Children's Psychopathology
In this study, we aim to assess whether current
mood state
(depressed or manic/hypomanic) among parents with a mood disorder affects their reports of their offspring's psychopathology.
Sign Up for Free e-newsletters