April 20, 2015
More Than 1% of Preschoolers Given Psychiatric Medication
the Psychiatry Advisor take:
A surprisingly large number of preschool age children on Medicaid — more than 1% — are taking a psychiatric medication, a worrying finding given the lack of clinical trials on the effectiveness and side effects of the drugs in children this young.
Lauren Garfield, PhD, who was with Washington University in St. Louis when the study was conducted, and colleagues examined data from the 2000-2003 Medicaid Analytic Extra from 36 states.
Between those years, nearly 1.2% of children received a prescription for attention-deficit/hyperactivity disorder (ADHD), depression, anxiety, psychosis or bipolar medication, the researchers reported in the American Journal of Public Health. Broken down, 0.61% of children got an ADHD medication, 0.59% received a prescription for for depression or anxiety, and 0.24% received a drug for psychosis or bipolar disorder.
Also, 0.17% of infants younger than a year old and 0.34% of children between one and two years were being given psychiatric medication.
"It is possible that some of these children have brain injuries or insults, such as traumatic brain injuries, fetal alcohol syndrome, or the like, for which treatment is being provided," Ramesh Raghavan, MD, PhD, also of Washington University and a study co-author, said in a statement.
"But if these medications are being used solely for behavioral control, then it seems clear that we need to better assess these children, and see if they might be better served by the use of evidence-based behavioral interventions."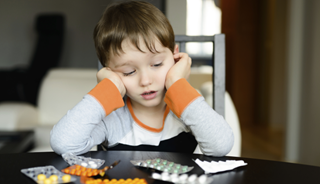 More Than 1% of Preschoolers Given Psychiatric Medication
More than 1% of American preschool children on Medicaid are taking psychiatric drugs, such as antidepressants, mood stabilizers, and medications for attention-deficit/hyperactivity disorder (ADHD), according to a new study.
Researchers from Brown School at Washington University in St. Louis and Washington University School of Medicine in St. Louis evaluated data from the 2000-2003 Medicaid Analytic Extract from 36 states and found that preschoolers are receiving psychotropic (affecting mood, perception or behavior) medications despite limited evidence supporting safety or efficacy.
The researchers used logistic regression to determine the odds of receiving medications for ADHD, depression or anxiety and psychotic illness or bipolar.

Sign Up for Free e-newsletters
Check out what's trending