March 06, 2015
More States Trying to Regulate Antipsychotic Prescribing to Children
the Psychiatry Advisor take:
Given that antipsychotic drugs are given to children covered under Medicaid at a rate five times higher than peers who have private insurance coverage, 31 states have implemented prior authorization policies for atypical antipsychotic prescribing to children, most of them in the last five years.
In addition, the policies in most of those states apply to children below the age of 7.
Julie M. Zito, PhD, of the University of Maryland, Baltimore, and colleagues looked for prior authorization policies for youth under the age of 18 in all states between June 2013 and 2014. Out of the 31 states with such policies, 15 have incorporated a peer review process, in which adjudication process usually involves a psychiatrist or other physician specialty, the researchers reported in JAMA. States without a peer review process use automated systems or non­physician manual reviews for adjudication.
Only seven states (Alabama, Kentucky, Maryland, Nevada, North Carolina, Pennsylvania, Tennessee) apply their policies to Medicaid youth up to age 18 years. Another seven states (California, Colorado, Georgia, Mississippi, Nebraska, New York, Washington) have age-restriction criteria that depend on drug entity.
"The findings may inform pediatric research to assess the effect of these policies on atypical antipsychotic use to ensure clinical appropriateness and to minimize unintended consequences," the researchers wrote.
Some of those consequences, they pointed out, are inadequate treatment, substitution of potential off-label psychotropic medication classes, such as anticonvulsant mood stabilizers and antidepressants, and an administrative burden on prescribers.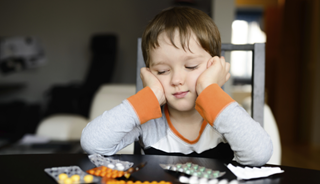 More States Trying to Regulate Antipsychotic Prescribing to Children
With a concern about inappropriate prescribing of antipsychotic medications to children, 31 states have implemented prior authorization policies for atypical antipsychotic prescribing, mostly within the past five years, and with most states applying their policies to children younger than 7 years of age, according to a study in JAMA.
Over the past two decades, antipsychotic prescribing to youth, almost exclusively comprising atypical antipsychotic medications, was estimated to have increased from 0.16% in 1993-1998 to 1.07% in 2005-2009 in office-based physician visits. Antipsychotic use is also 5-fold greater in Medicaid-insured youth than in privately insured youth, and occurs mostly for indications not approved by FDA.
In light of antipsychotic treatment-emergent cardiometabolic adverse events, several government reports called for efforts to improve pediatric psychotropic medication oversight in state Medicaid agencies. Such efforts have included age­restricted prior authorization policies, which require clinicians to obtain preapproval from Medicaid agencies to prescribe atypical antipsychotics to children younger than a certain age as a condition for coverage, according to background information in the article.
Sign Up for Free e-newsletters
Check out what's trending