December 30, 2014
Infants' Attachment to Parents May Predict Anxiety in Adolescence
the Psychiatry Advisor take:
How infants respond to their parents may help to determine whether the child will have social anxiety in adolescence.
Erin Lewis-Morrarty, PhD, of the University of Maryland at College Park, and colleagues studied 165 European-American children from middle- to upper-middle class families, beginning when they were four months old.
At 14 months, the infants and their parents were watched to see how the babies reacted during brief separations from their parents. Babies were classified as having a secure attachment to their parents if they initiated contact with parents after the separation and calmed down after seeing them again. Infants that ignored, avoided contact, or were unable to calm down after seeing their parents were deemed as having insecure attachment.
When the children were between 14 and 17, they and their parents completed a questionnaire about the adolescents' anxiety. Children who had insecure attachment as children and remained inhibited through their childhood had higher levels of anxiety — particularly social anxiety — as adolescents compared to those who had secure attachment, the researchers reported in the journal Child Development.
"Our study suggests that it is the combination of both early risk factors that predicts anxiety in adolescence, particularly social anxiety," Lewis-Morrarty said in a statement. "The findings can inform the prevention and treatment of adolescent social anxiety by identifying specific factors that increase risk for this outcome among children who are persistently shy."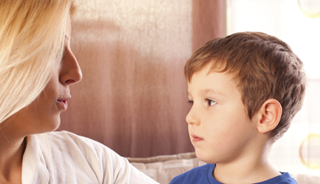 Infants' Attachment to Parents May Predict Anxiety in Adolescence
The quality of parent-infant relationships can predict social anxiety in adolescence, according to a new study.
Infants who are not securely attached to their parents often grow up to be inhibited children who develop anxiety problems, especially social anxiety, as they get older, according to researchers at the University of Maryland, National Institute of Mental Health, and the University of Waterloo.
Social anxiety disorder is one of the most common
psychiatric disorders among children and adolescents
, with rates of about 5.5% among 13- to 18-year-olds, according to the study, which was published in
Child Development
, the journal of the Society for Research in Child Development