August 20, 2015
Having Friends Helps Teens Avoid Depression
the Psychiatry Advisor take:
Teenagers who have friends with depression are not negatively impacted, mental health wise, as a result.
Frances Griffiths, MD, PhD, of the Warwick Medical School, England, and colleagues examined data from the National Longitudinal Study of Adolescent to Adult Health to review more than 2,000 U.S. high school students. To measure how mood influenced each other, the researchers modeled the spread of moods using methods akin to those used to track the spread of infectious diseases.
Individuals were then determined as having either low mood (depressive symptoms) or healthy mood (no symptoms).
Having at least five friends who were mentally healthy decreased the probability of developing depression by 50% compared to peers with no healthy friends, the researchers reported in the Proceedings of the Royal Society B. Further, teens with 10 healthy friends are more than twice as likely of recovering from depression compared to peers with only three healthy friends.
"Our results offer implications for improving adolescent mood. In particular they suggest the hypothesis that encouraging friendship networks between adolescents could reduce both the incidence and prevalence of depression among teenagers," Griffiths said in a statement.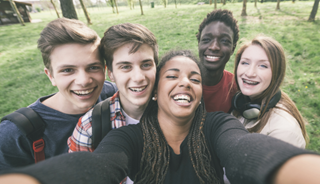 Having at least five mentally healthy friends led to a 50% reduction in teens in the risk of developing depression compared to peers with no friends.
A study of US high school students has found that having friends who suffer from depression doesn't affect the mental health of others.
In fact, having friends appears to play a profound role in helping teenagers recover from depression or even avoid becoming depressed.
The findings come from a study of the way teenagers in a group of US high schools influenced each other's mood. In the review, researchers from the University of Warwick created a mathematical model to establish if depression spreads from friend to friend.
Sign Up for Free e-newsletters