September 02, 2014
Family Dinners May Protect Kids from Bullying
the Psychiatry Advisor take:
Adolescents who experience cyberbullying are more susceptible to mental health and substance-abuse problem, but family support may ameliorate adverse outcomes associated with such experiences.
Frank J. Elgar, PhD, of the Institute for Health and Social Policy at McGill University in Montreal, Canada, and colleagues examined whether the frequency of family dinners had an impact on adolescent mental health, specifically a protective effect against negative outcomes associated with cyberbullying.
The researchers analyzed survey data from 18,834 students aged 12 to 18 years from the Midwest. Nearly 20% of those students said they had been the victim of cyberbullying, whether via the Internet or text messaging.
Rates of anxiety, depression, self-harm, and substance abuse were higher in those who had experienced cyberbullying, the researchers found. Teens who were often cyberbullied were more than twice as likely to have been drunk, fought, vandalized property, or had suicidal thoughts, and were more than four times as likely to have abused drugs, compared with those who were never cyberbullied.
However, teens that regularly ate dinner with their families were not impacted as much from the effects of cyberbullying compared with peers who did not have family dinners as often, the researchers reported in JAMA Pediatrics.
"The more contact and communication you have with young people, the more opportunities they have to express problems they have and discuss coping strategies," Elgar said, according to Reuters. "Essentially the relationships between victimization and all other mental health outcomes were lessened with more frequent family dinners."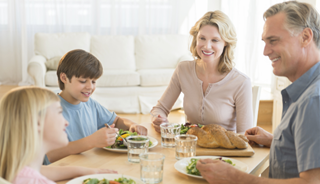 Family Contact Alleviates Cyberbullying Stress
This study presents evidence that cyberbullying victimization relates to internalizing, externalizing, and substance use problems in adolescents and that the frequency of family dinners attenuate these associations.
The objective is to examine the unique association between cyberbullying victimization and adolescent mental health (after controlling differences in involvement in traditional, face-to-face bullying) and to explore the potential moderating role of family contact in this association.
This article originally appeared
here.
Sign Up for Free e-newsletters
Check out what's trending