August 29, 2014
Ethnicity Plays Role in Decision to Seek Treatment for Depression
the Psychiatry Advisor take:
Adolescents' decisions to seek mental health treatment for depression are influenced by their racial and ethnic background, researchers found.
Janet R. Cummings, PhD, of the Rollins School of Public Health at Emory University in Atlanta Georgia, and colleagues examined the medical records of 2,789 adolescents take from the National Survey on Drug Use and Health who had experienced a major depressive episode and received subsequent treatment.
The survey included questions about the settings in which participants received treatment, as well as up to 11 possible reasons for their visit.
Hispanic adolescents were more likely than whites to endorse "breaking rules," or getting into physical fights as reasons for seeking mental health services, the researchers reported in the Journal of the American Academy of Child & Adolescent Psychiatry.
Black adolescents were more likely than their white counterparts to endorse "problems at school," but less likely to indicate they felt "felt very afraid or tense" or had "eating problems" as reasons for treatment.
Asian adolescents were more likely to support "problems with people other than friends or family," but less likely than whites to endorse "suicidal thoughts/attempt" and "felt depressed" as reasons.
"Understanding racial/ethnic differences in the patient's perceived treatment rationale can offer opportunities to enhance outcomes for depression among diverse populations," the researchers concluded.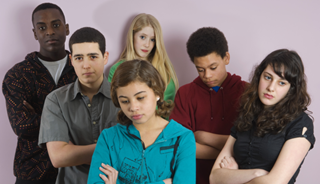 Rationale for Depression Treatment Varies by Race, Ethnicity
Racial/ethnic differences in the course of treatment for a
major depressive episode
(MDE) among adolescents may arise, in part, from variation in the perceived rationale for treatment. We examined racial/ethnic differences in the perceived reasons for receiving mental health treatment among adolescents with an MDE.
Sign Up for Free e-newsletters