August 29, 2014
E-Cigarette Use Tripled in Teens
the Psychiatry Advisor take:
Electronic cigarettes can be a gateway for young people to progress to smoking tobacco cigarettes, as the number of adolescents who have used the devices has skyrocketed, the CDC is warning.
In 2013, a total of 263,000 young people who had never smoked a cigarette before used an e-cigarette, agency researchers found. That figure back in 2011 was just 79,000. The data were based on findings from the National Youth Tobacco survey of middle and high school students.
Adolescents who had never smoked traditional cigarettes but had who had used an e-cigarette were nearly twice as likely to smoke tobacco cigarettes compared to those who had never touched an e-cigarette, the researchers reported in Nicotine and Tobacco Research.
Among nonsmoking youth who had ever used e-cigarettes, 43.9% said they intended to smoke conventional cigarettes within the next year, compared with 21.5% of those who had never used e-cigarettes.
"We are very concerned about nicotine use among our youth, regardless of whether it comes from conventional cigarettes, e-cigarettes, or other tobacco products," Tim McAfee, MD, MPH, director of CDC's Office on Smoking and Health, said in a statement. "Not only is nicotine highly addictive, it can harm adolescent brain development."
Additional findings also showed the more advertising young people were exposed, the greater the rate of their intention to smoke cigarettes. Among students who said they hadn't seen cigarette ads, 13% said they had no intentions of picking up the habit, whereas 20.4% of teens who saw one or two tobacco ads said they intended to smoke. This figure increased to 25.6% among those who had seen at least three ads.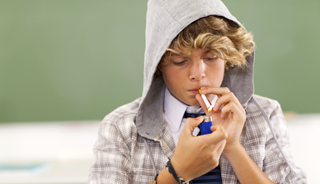 E-Cigarettes Tempt Young People to Smoke Tobacco Cigarettes
Electronic cigarettes may be more tempting to non-smoking youths than conventional cigarettes, and once young people have tried e-cigarettes, they may be more inclined to give regular cigarettes a try, U.S. researchers said.
A report, released by a team at the CDC, lends evidence to the argument that electronic cigarettes encourage youth smoking.
The study, based on nationally representative youth surveys, found that more than a quarter-million adolescents and teens who had never smoked used an electronic cigarette in 2013, a threefold increase from 2011
Sign Up for Free e-newsletters
Check out what's trending