July 28, 2014
Crime More Prevalent in Youth with Psychiatric Disorders
the Psychiatry Advisor take:
Despite low overall prevalence, youths with a history of psychiatric disorders are more likely to commit crimes than their healthy counterparts -- underscoring the need to improve mental health services for troubled adolescents.
Kendell L. Coker, PhD, JD, a postdoctoral fellow at Yale University School of Medicine and colleagues sought to determine if there is a connection between mental illness and crime using records from more than 10,000 youths aged 13 to 17 years who participated in the National Comorbidity Survey-Adolescent Supplement.
The team examined the relationship between DSM-IV diagnoses, reported crime and arrest history. Logistic regression was used to compare the odds of committing a crime among those with a diagnosed psychological disorder versus those without.
Results, published in the Journal of the American Academy of Child & Adolescent Psychiatry, indicate that those with a history of committing a violent crime, either with or without being arrested, were significantly more likely to be diagnosed with a conduct disorder (odds ratio=57.5; 95% CI= 30.4, 108.8), alcohol use disorder (OR=19.5; 95% CI=8.8, 43.2), or drug use disorder (OR=16.1; 95% CI=9.3, 27.7).
The odds of being arrested for a violent crime increased with the number of psychiatric comorbidities. Youth with three or more diagnoses (16% of study population) accounted for 54.1% of those reporting arrest for violent crime.
Despite these findings, 88.2% of youths with mental illness committed no crimes, the researchers noted.
"Our findings highlight the importance of improving access to mental health services for youthful offenders in community settings, given the substantial associations found between mental illness and crime in this nationally representative epidemiological sample," they concluded.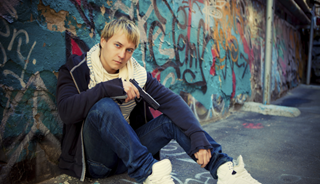 Youth With Psychiatric Disorders More Likely to Commit Crimes
Current knowledge regarding psychiatric disorders and crime in youth is limited to juvenile justice and community samples.
This study examined relationships between psychiatric disorders and self-reported crime involvement in a sample of youth representative of the U.S. population.
Sign Up for Free e-newsletters