November 10, 2015
Anxiety in High-Risk Teens Leads to Stress Hormone Overproduction
the Psychiatry Advisor take:
Teenagers who have high levels of anxiety as a result of exposure to stress and traumas will produce too much of the stress hormone cortisol into adulthood, which may contribute to an increase in mental and physical health issues.
Shervin Assari, MD, MPH, of the University of Michigan Medical School, and colleagues examined a data set from the Flint Adolescent Study that included 176 young African-American youths (85 males, 91 females).
Their cortisol levels were measured, through saliva samples, from the ninth grade through early adulthood. Stress can alter the hormonal balance in what is known as the hypothalamus-pituitary-adrenal (HPA) axis. The samples were used to see how anxiety levels when subjects were 15 years old impacted the HPA system, the researchers reported in the International Journal of Endocrinology and Metabolism.
"Living all their lives in a very stressful environment, which is associated with higher levels of anxiety, is not very good for the brains of these black youth, and such exposures will have long lasting effects, which is potentially preventable," Assari said in a statement.
High cortisol levels can impact memory and learning, lower immune function, reduce bone density, cause increased weight gain, and raise blood pressure and cholesterol. It has been lined to mental health issues including anxiety and depression.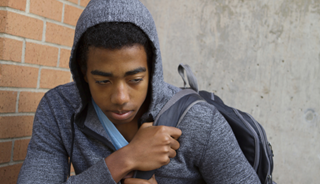 Elevated production of cortisol can lead to physical and mental health issues, including anxiety and depression.
New research finds that African-American youth whose anxiety levels are elevated by everyday struggles will overproduce the stress hormone cortisol into adulthood.
Researchers from the University of Michigan School of Public Health and Medical School found that anxiety among females and alcohol use among males in their teens predict their cortisol output seven years later.
Elevated hormone levels can contribute to a variety of physical and mental health issues and have been linked to a shortened life span. The research supports earlier findings that link the challenges associated with the daily social environment to overproduction of stress hormones.
Sign Up for Free e-newsletters
Check out what's trending