September 15, 2014
CBT Beneficial for Adolescents With Bipolar Disorder
the Psychiatry Advisor take:
Cognitive behavioral therapy focused on both adolescents suffering bipolar disorder and their families may improve symptoms of the condition compared to standard psychotherapy.
Amy E. West, PhD, of the University of Illinois at Chicago College of Medicine, and colleagues examined 69 adolescents aged 7-13 who meet DSM-IV criteria for bipolar I or bipolar II. They were randomized to either 12 weekly sessions of Child- and Family-Focused Cognitive Behavioral Therapy (CFF-CBT) or standard psychotherapy. That was followed by monthly sessions for another six months.
Participants in CFF-CBT attended more sessions, were less likely to drop out and reported greater satisfaction with treatment than controls, the researchers reported in the Journal of the American Academy of Child & Adolescent Psychiatry. In addition, the CBT treatment was better than standard psychotherapy in reducing parent-reported mania at post-treatment and depression symptoms at post-treatment and follow-up.
"CFF-CBT may be efficacious in reducing acute mood symptoms and improving long-term psychosocial functioning among children with" bipolar disorder, the researchers concluded.
In July, German researchers reported that CBT was an effective, long-term treatment for social anxiety disorder.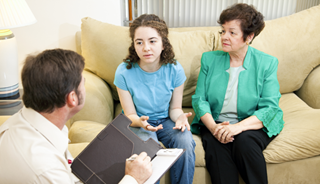 CBT Beneficial for Adolescents With Bipolar Disorder
Previous studies have found that family-based psychosocial treatments are effective adjuncts to pharmacotherapy among adults and adolescents with
bipolar disorder
(BD). The objective of this study was to compare the efficacy of adjunctive Child- and Family-Focused Cognitive Behavioral Therapy (CFF-CBT) to psychotherapy as usual (control) for mood symptom severity and global functioning in children with BD.
Sign Up for Free e-newsletters
Check out what's trending