July 14, 2014
Bullying Ends in Childhood, But Mental Toll Continues in Adulthood
the Psychiatry Advisor take:
Although bullying is normally associated with children and young people, it's detrimental effects can last decades after the bullying stops. Findings from a UK study that included data from a 50-year birth cohort suggested that decades after they were bullied as children, adults showed increased levels of negative psychological issues, including depression and suicidality.
Conducted by researchers at the British Academy, data published in the American Journal of Psychiatry showed that those who were bullied in childhood had a higher incidence of psychological distress between the ages of 23 and 50 years.
Some of the outcomes measured included anxiety disorders, alcohol dependence at age 45 years, negative impact on socioeconomic status and social relationships, as well as cognitive functioning.
With bullying grabbing headlines in the news, often due to children committing suicide as a result, the researchers recommended developing initiatives to reduce bullying exposure in childhood and to minimize the long-term effects on well-being in adulthood.
"Children who are bullied—and especially those who are frequently bullied—continue to be at risk for a wide range of poor social, health, and economic outcomes nearly four decades after exposure," the researchers wrote. "Interventions need to reduce bullying exposure in childhood and minimize long-term effects on victims' well-being; such interventions should cast light on causal processes."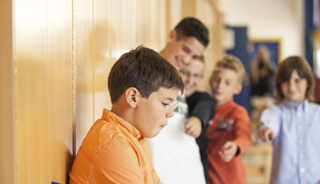 Bullying Ends in Childhood, But Mental Toll Continues in Adulthood
Increasing evidence now confirms that being a target of bullying in childhood jeopardizes young victims' well-being and contributes to the development of mental health problems early in life.
Not only do victims of bullying have elevated symptoms of anxiety and depression in childhood and adolescence, they also show increased rates of self-harm, suicidal thoughts and suicide attempts, and psychotic symptoms, including anxiety and alcohol dependence. The researchers also observed associations between bullying and socioeconomic status, relationships, and cognitive functions. The study findings were published in the American Journal of Psychiatry.
Sign Up for Free e-newsletters
Check out what's trending