March 03, 2015
Are Doctors Properly Prescribing Antipsychotics for Children?
the Psychiatry Advisor take:
Most doctors are prescribing antipsychotics to children under the correct circumstances, though blood work should be monitored more carefully, according to a study published in Pediatrics.
According to the Agency for Healthcare Research and Quality, the number of children under Medicaid being treated with antipsychotic medications rose by 62% from 2002 to 2007. The researchers wanted to examine the clinical decision-making processes of the physicians prescribing these drugs. Ultimately, they sought to determine if these medications were being overprescribed in this population.
Based on Medicaid claims data, the researchers surveyed every doctor who prescribed antipsychotic medication between July and October 2012. A total of 147 physicians responded, accounting for prescriptions for 647 patients.
The researchers determined if the antipsychotics were appropriately prescribed by looking at the best practices recommendations from the American Academy of Child and Adolescent Psychiatry and clinical indications from the FDA.
The survey results indicated that approximately half of the prescriptions deviated from the guidelines. Most commonly, physicians failed to monitor cholesterol and blood-glucose levels before and after their patients initiated medication.
Despite the lack of lab tests, the survey results indicated that almost 92% of physicians prescribed the antipsychotic drugs under the correct circumstances. They did not tend to prescribe them to children with insomnia or temper tantrums, but did try the medications as a second line of treatment for aggression and mood instability.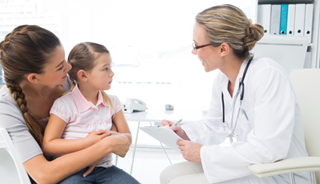 Are Doctors Properly Prescribing Antipsychotics for Children?
More kids nationwide are taking medications designed to treat such mental illnesses as schizophrenia and bipolar disorder, and pediatricians and psychiatrists at the University of Vermont want to know why.
Led by David Rettew, MD, associate professor of psychiatry and pediatrics, the researchers conducted a study to find out "whether the right youth are being prescribed the right medications at the proper time in their treatment," they state in their study in the March issue of the journal Pediatrics. Their findings, for the first time, delve into the clinical decision-making process of physicians who prescribe these drugs.
Sign Up for Free e-newsletters