April 15, 2015
Anxious Youths in Addiction Treatment Benefit From Service Activities
the Psychiatry Advisor take:
Some adolescents that suffer from an addiction and are sent for treatment also have a co-morbid anxiety disorder. A new study has found that addiction treatment that encourages helping peers through service activities can provide additional benefits to anxious youths.
Maria E. Pagano, PhD, of Case Western Reserve University in Cleveland, and colleagues sought to determine how social anxiety disorder (SAD) impacts engagement patterns during addiction treatment and outcomes. They examined data for 195 adolescent aged between 14 and 18 years old who met DSM-5 criteria for marijuana or alcohol dependency and participated in a 12-step program.
Fifteen percent of participants met diagnostic criteria for SAD and 42% had a fear of being humiliated or criticized in social situations. SAD was also associated with greater incarceration history and earlier age of first use.
Participants with SAD were more likely to engage in basic service or peer-helping activities during meetings, such as putting away chairs or making coffee, the researchers reported in journal Alcoholism: Clinical & Experimental Research, compared with those without the disorder (43% vs. 30%). In addition, the adolescents that participated in such activities had better outcomes, including lower rates of incarceration post-treatment.
"The low-intensity service activities in [Alcoholics Anonymous] offer youths — and those with [SAD] in particular — a nonjudgmental, task-focused venue for social connectedness, reduce self-preoccupation and feeling like a misfit, and transform a troubled past into usefulness with others," the researchers wrote. "Given finite treatment resources and the reality that addiction is lifelong, [Alcoholics Anonymous-related helping] should be encouraged for socially anxious youths in particular."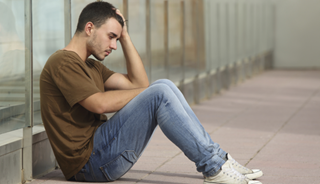 Anxious Youths in Addiction Treatment Benefit From Service Activities
Recent study findings suggest that addiction treatment that uses service participation has significant benefits for adolescents with social anxiety disorder, as they are more likely to partake and have reduced risk for relapse and incarceration six months post-treatment.
To examine how social anxiety disorder affected 12-step engagement patterns during treatment and treatment outcomes, researchers assessed data for 195 adolescents aged 14 to 18 years who were referred to residential treatment by court. Study participants met DSM-5 criteria for marijuana dependency or co-morbid alcohol dependency. Data were from interviews, youth reports, clinician reports, medical chart review and electronic court records.
Sign Up for Free e-newsletters