March 08, 2018
Examining the Relationship Between Synthetic Cannabinoid Use and Hospital Length of Stay, Antipsychotic Doses in Bipolar Disorder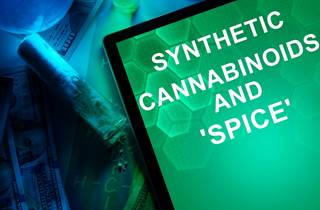 Synthetic cannabinoids have a potency ranging from 2- to 100-fold that of Δ-9 tetrahydrocannabinol.
Synthetic cannabinoid use may result in shorter hospital stays and reduced antipsychotic doses in patients with bipolar disorder, schizophrenia, or psychotic disorders presenting to the emergency department or psychiatric hospitals, according to a retrospective study recently published in Psychiatry Research.1
Synthetic cannabinoids, which have a potency ranging from 2- to 100-fold that of Δ-9 tetrahydrocannabinol, have been associated with a number of adverse effects that include psychosis and suicidal ideation.2 Previous studies examining the effects of synthetic cannabinoid use in individuals with psychiatric disorders, including schizophrenia and bipolar affective disorder, found occurrence of psychotic relapses and anxiety, and worsening or emergence of psychotic symptoms.3,4 In addition, synthetic cannabinoid use was found to lead to a higher prevalence of psychotic symptoms, increased agitation, and aggression in psychiatric inpatients compared with the use of marijuana.5
In the current retrospective study, the electronic medical records of inpatients (ages 18-65 years; 82.7% men; 53.1% whites) at Harris County Psychiatric Center in Houston, Texas, admitted between January 2014 and July 2015 were examined. These patients had a discharge diagnosis of bipolar disorder (n=142) or schizophrenia/other psychotic disorder (n=182), and had self-reported use of synthetic cannabinoids or lack thereof (n=162 for both) were examined. In addition to demographic data, antipsychotic medication doses at discharge (ie, stabilization dose during hospitalization) were extracted.
According to the study authors, length of hospital stay can be predicted both by a direct and an indirect effect of synthetic cannabinoid use, the latter a factor of antipsychotic dose. Using a Satorra-Bentler χ2 difference test, the nature of the psychiatric diagnosis was not found to affect the relationship between use of synthetic cannabinoids before admission and hospital length of stay or antipsychotic doses. Using a diagnosis-invariant-derived structural equation model, length of stay was found to be predicted by dose of antipsychotics at discharge and use of synthetic cannabinoids.
In particular, patients who had reported use of synthetic cannabinoids vs no use had shorter lengths of hospital stay (factor of 0.76; P =.001), and length of stay was increased by a factor of 1.0003 with each unit increase of antipsychotic dose (P =.005). In addition, synthetic cannabinoid use predicted medication received (P =.014), with patients who had taken synthetic cannabinoids receiving lower doses of medication compared with individuals who had not taken the drug. Last, use of synthetic cannabinoids had an indirect effect, mediated by dose of antipsychotic medication, on hospital length of stay (P =.012).
"The present study indicates that patients with bipolar disorder, schizophrenia, and other psychotic disorders with comorbid synthetic cannabinoid use may require shorter hospital stay and lower doses of antipsychotic medications," concluded the study authors, adding "These results may contribute to effective and efficient case management and planning for these patient populations."
References