October 17, 2014
Siblings of Children with Autism Can Show Signs at 18 Months
the Psychiatry Advisor take:
While younger siblings of children with autism spectrum disorder are at an increased risk of developing the condition themselves, new evidence indicates many siblings that are eventually diagnosed show signs of the disorder as early as 18 months old.
Katarzyna Chawarska, PhD, of the Yale School of Medicine, New Haven, Connecticut, and colleagues analyzed records of 719 siblings at high risk of developing autism to see if they could identify behavioral tendencies that would indicate early signs of autism.
At 18 months, 57% of the younger siblings that were later diagnosed with autism showed symptoms consistent with the disorder, the researchers reported in the Journal of the American Association of Child & Adolescent Psychiatry.
In nearly half of the siblings, a combination of poor eye contact and lack of communicative gestures or imaginative play is most strongly associated with receive an autism diagnosis in the future. However, a smaller percentage had normal eye contact but displayed early signs of repetitive behavior and was later diagnosed with autism as well.
"While the majority of siblings of children with [autism] will not develop the condition themselves, for those who do, one of the key priorities is finding more effective ways of identifying and treating them as early as possible," Chawarska said in a statement. "Our study reinforces the need for repeated diagnostic screening in the first three years of life to identify individual cases of [autism] as soon as behavioral symptoms are apparent."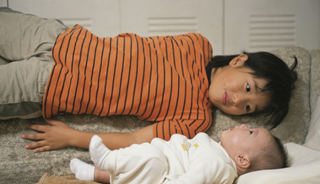 Siblings of Children with Autism Can Show Signs at 18 Months
About 20% of younger siblings of children with autism spectrum disorder (ASD) will develop the condition by age 3. A new study by Yale School of Medicine researchers has found that 57% of these younger siblings who later develop the condition already showed symptoms at age 18 months.
Published in the October issue of the Journal of the American Academy of Child & Adolescent Psychiatry, this is the first large-scale, multi-site study aimed at identifying specific social-communicative behaviors that distinguish infants with ASD from their typically and atypically developing high-risk peers as early as 18 months of age.
Sign Up for Free e-newsletters
Check out what's trending