May 22, 2015
Pets May Help Ease Social Anxiety in Kids With Autism
the Psychiatry Advisor take:
Having a pet around may help ease anxiety in children that have autism, according to a new study.
Marguerite O'Haire, PhD, of the Center for the Human-Animal Bond in the College of Veterinary Medicine of Purdue University, West Lafayette, Ind., and colleagues found that when autistic children were in the presence of companion animals — dogs, cats and guinea pigs — they had lower anxiety, according to results published in the journal Developmental Psychobiology.
The study enrolled 114 children, between the ages of 5 and 12, into 38 groups of three. In each group, one child had autism, and the other two were typically developing peers. All children were fitted with a wrist band that measures skin conductance. When a person feels excited, fearful, or anxious, an electric charge travels faster through the skin, a gauge of social anxiety and psychological arousal.
For a few minutes, the children read a book silently. They were then asked to read aloud in front of their peers. Toys were brought into the room and the kids had 10 minutes of free play time. Lastly, two guinea pigs were brought into the room and the children were given 10 minutes of supervised time with the animals.
Kids with autism had higher skin conductance during both reading sessions and playing with toys compared to their peers. However, when the guinea pigs arrived, the children with autism saw their skin conductance level drop dramatically.
As to why this is the case, the researchers believe that because companion animals offer unqualified acceptance, their presence makes the children feel more secure.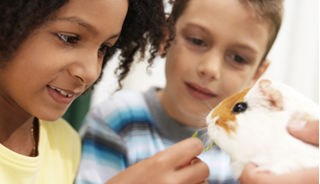 Pets May Help Ease Social Anxiety in Kids With Autism
Animals' presence may ease social anxiety in kids with autism as an NIH-funded study could have implications for treatment
When animals are present, children with autism spectrum disorders (ASDs) have lower readings on a device that detects anxiety and other forms of social arousal when interacting with their peers.
According to a study funded in part by the National Institutes of Health, companion animals — like dogs, cats or the guinea pigs in the study — may prove to be a helpful addition to treatment programs designed to help children with ASDs improve their social skills and interactions with other people.