December 29, 2014
New App Teaches Kids With Autism to Maintain Eye Contact
the Psychiatry Advisor take:
A new app developed by electronics giant Samsung aims to help kids that have autism by teaching them how to better maintain eye contact.
The Android app, called Look at Me, was developed by physicians and researchers at South Korea's Seoul National University Bundag Hospital and Yonsei University Department of Psychology. Using photos, facial recognition technology, and games, it helps kids with autism to understand emotions, allowing them to better communicate with others.
Look At Me provides six challenges for children to complete, and recommends daily usage of at least 15 minutes. One challenge has children practice forming certain facial expressions ("Expression of the Day"). Another has them draw facial features over existing photos. Points are awarded based on the child's performance.
The developers of the app conducted a clinical trial with 20 children over eight weeks. They say that 60% of the kids showed improvement in making eye contact after using the app.
Other tech companies have been getting involved in autism. In partnership with advocacy group Autism Speaks, Google last month formally announced the launch of MSSNG, a project to form a database of genetic information from people with autism and their families to promote research on the disease. The database will be hosted on the Google Cloud platform.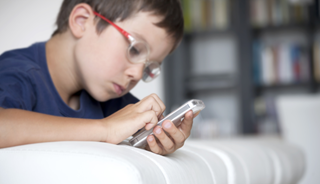 New App Teaches Kids With Autism to Maintain Eye Contact
Over the past few years, technology has given educators and the parents of autistic children tools they could never have imagined before. Mobile apps and games help kids learn communication skills, while virtual reality can potentially teach them how to cope in different social situations. Many of these tools are created by independent developers, but as autism diagnoses increase, large companies have also begun focusing on the neurodevelopmental disorder.
The latest tech company to come out with an autism tool is Samsung, which just released Look At Me, an Android app that it claims can help kids learn how to better maintain eye contact, something that many people with autism have difficulty doing.
Sign Up for Free e-newsletters