August 12, 2014
Interventions Alleviate Stress in Parents of Kids With Autism
the Psychiatry Advisor take:
It's tough being a parent raising a child with autism. However, having peer-led interventions that focused on the well-being of mothers led to positive outcomes in terms of less stress, depression and anxiety.

Vanderbilt University researchers looked at 250 mothers who were randomized into two treatment programs for parents of a child with autism or a disability in a study published in Pediatrics. One was Mindfulness-Based Stress Reduction (MBSR), while the second was Positive Adult Development (PAD).

MBSR emphasizes breathing exercises and meditation, while PAD approach uses exercises including practicing gratitude. "The well-being of this population is critically important because, compared to parents of typically developing children, parents of children with developmental disabilities experience substantially higher levels of stress, anxiety and depression, and as they age, physical and medical problems," wrote Elisabeth Dykens, PhD, director of the Vanderbilt Kennedy Center for Research on Human Development and professor of Psychology and Human Development, Pediatrics and Psychiatry.

"Add to this the high prevalence of developmental disabilities – about one in five children – and the fact that most adult children with intellectual disabilities remain at home with aging parents, we have a looming public health problem on our hands," she added.

The mothers had four months of training on each intervention curriculum. At baseline, 85% had significantly elevated stress, 48% were clinically depressed, and 41% had anxiety disorders.

Treatment with both types of intervention led to significant reductions in stress, depression, and anxiety, and improved sleep and life satisfaction among participants. Although mothers in the MBSR treatment saw the greatest improvements, participants in both treatments continued to improve during follow-up.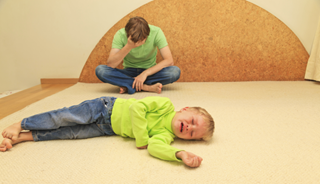 Intervention Can Alleviate Stress in Parents of Children With Autism
Peer-led interventions that target parental well-being can significantly reduce stress, depression and anxiety in mothers of children with disabilities, including autism, according to new findings released today in the journal Pediatrics.
In a first-of-its-kind study, researchers from Vanderbilt University examined two treatment programs in a large number of primary caregivers of a child with a disability. Participants in both groups experienced improvements in mental health, sleep and overall life satisfaction and showed less dysfunctional parent-child interactions.
Sign Up for Free e-newsletters