January 08, 2015
Hyperbaric Oxygen Chambers Gain Interest as Autism Treatment
the Psychiatry Advisor take:
Hyperbaric oxygen chambers, which were initially developed to treat decompression sickness (also known as "the bends"), are gaining interest as an unapproved treatment for autism.
Even though the FDA has said that hyperbaric oxygen therapy (HBOT) "has not been clinically proven to cure or be effective in the treatment of cancer, autism, or diabetes," despite alternative medicine claims, that has not stopped many parents from pursuing the treatment for an autistic child.
One of those parents, Lee Frost, brought her son, Callum, for treatment in a hyperbaric oxygen chamber in 2013 for his severe autism after other therapies failed. The treatment involves breathing pure oxygen for 75 minutes at a time.
Now five years old, Callum speaks in sentences and gets ready by himself before kindergarten in the morning. "He still has a way to go, but the child he is today is a different child," Ms. Frost told The Wall Street Journal.
But the growing popularity of CBOT has some worried that patients are being exploited for financial gain for a treatment whose benefits have yet to be scientifically confirmed.
"Desperation created by the absence of approved treatments has unfortunately made autism families vulnerable to misleading claims about the effects of treatments and assumptions of safety," Rob Ring, chief scientific officer of advocacy group Autism Speaks, told the newspaper.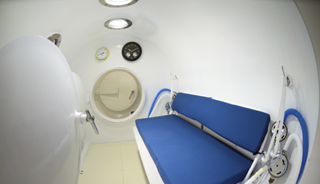 Hyperbaric Oxygen Chambers Gain Interest as Autism Treatment
Lee Frost spent three months in 2013 taking her son Callum for treatment in a high-pressure oxygen chamber, in hopes it would help his severe autism. Ms. Frost, frustrated by the lack of approved treatments for her son, discovered hyperbaric oxygen therapy through online research.
Callum's ability to communicate had been limited to screaming tantrums, biting and slapping, she recalls. After receiving the therapy, which involves inhaling pure oxygen for 75 minutes at a time, Callum, now 5, is able to speak in sentences and dress himself in the morning before kindergarten, Ms. Frost says. His treatment also included dietary changes. "He still has a way to go, but the child he is today is a different child," says Ms. Frost, who lives in White Rock, British Columbia, in Canada.
Sign Up for Free e-newsletters
Check out what's trending