April 21, 2015
Finding Love With Autism Focus of New Documentary
the Psychiatry Advisor take:
Finding love can be difficult for most people, and can be downright challenging for people with autism. A new documentary looks at four autistic adults and the struggles they encounter as they try to pursue and manage romance with others.
"Autism in Love" was made by independent filmmakers Matt Fuller and Carolina Groppa. The idea for the documentary came from Groppa while working as an administrative assistant for Ira Heilveil, PhD, a clinical psychiatry professor at David Geffen UCLA School of Medicine. Heilveil is also an executive producer on the film.
Two of the people followed in the documentary, Lindsey and David, are in the midst of an eight-year relationship. In one scene, Dave, a scientist, compares his attraction to Lindsey to the electromagnetic spectrum. And he describes a formula he uses based on appearance, kindness and personality to determine a love connection.
"Although we think about autism, and people with autism, in terms of a social impairment, the deficit isn't in desire," Paul Wang, MD, the head of medical research at Autism Speaks, told the Huffington Post. "The deficit is in the skills needed to understand other people's social and communicative behavior, and in expressing oneself through language and social behaviors."
The film was named as an official selection at the Tribeca Film Festival in New York City where it just had its premiere.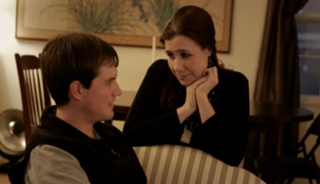 Finding Love With Autism Focus of New Documentary
Though the commonly discussed perception of autism is that it inhibits verbal displays of affection, director Matt Fuller aims to show that the disorder is not at odds with the act of love — a feeling characterized by empathy and understanding. His first feature-length film, "Autism in Love," premiered last week at the Tribeca Film Festival.
Fuller spoke with The Huffington Post about his ambitions for making the documentary. "I don't know the science," he said. "I don't know about the disorder's origin. I do know about the challenges many adults with autism face. I know that they want to love and be loved. And, I know they are capable of having meaningful, romantic relationships."
Sign Up for Free e-newsletters
Check out what's trending