January 09, 2015
Circumcision May Double Risk of Autism
the Psychiatry Advisor take:
A controversial study out of Denmark has found that circumcision may double the risk of developing autism.
Morten Frisch, MD, PhD, of the Statens Serum Institut in Copenhagen, and colleagues studied more than 340,000 boys followed up until the age of 9 between 1994 and 2013. During that period, nearly 5,000 cases of autism spectrum disorders were diagnosed in the group.
Circumcision raised the overall chances of developing autism before the age of 10 by 46%, the researchers reported in the Journal of the Royal Society of Medicine.
However, if the circumcision happened before the child turned five, the risk more than doubled. They also found that cultural background had no impact on the increased risk. Another observation was there was a higher risk of hyperactivity disorders in circumcised boys born to non-Muslim families.
"Possible mechanisms linking early life pain and stress to an increased risk of neurodevelopmental, behavioral or psychological problems in later life remain incompletely conceptualized," Frisch said in a statement. "Given the widespread practice of non-therapeutic circumcision in infancy and childhood around the world, our findings should prompt other researchers to examine the possibility that circumcision trauma in infancy or early childhood might carry an increased risk of serious neurodevelopmental and psychological consequences."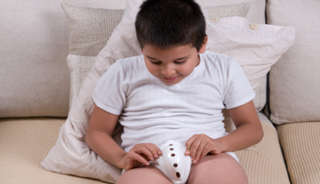 Circumcision May Double Risk of Autism
Circumcision before the age of five may double a boy's risk of developing autism, according to a controversial new study. Scientists in Denmark believe the link may be due to stress caused by the pain of the procedure.
The study of more than 340,000 boys found that circumcision raised the overall chances of an autism spectrum disorder before the age of 10 by 46%.
But if circumcision took place before the age of five it doubled the risk. Circumcision also appeared to increase the likelihood of boys from non-Muslim families developing hyperactivity disorder.