June 02, 2015
Chair That Mimics Hugging May Help Those With Autism
the Psychiatry Advisor take:
A high-tech chair that has been developed by high school engineering students that is intended to help children with autism spectrum disorder may be coming to market soon thanks to a Kansas City, Mo.-area businessman whose own son has the disorder.
Dubbed the "Sensory Lounger," it is made up of a normal looking lounge chair with arms that children would relax in, but with one major difference: It has two inflatable air cylinders — kind of like airbags — and a pump and pressure-sensor system that provides for consistent deep-touch pressure, reminiscent of a long-lasting, full-body hug that can be deeply soothing.
A company has since been formed, the Sensory Chair Company, with the intent of eventually producing the chairs, both for children and adults, according to the company's website.
The reason why the chair may be so therapeutic for autistic children is that greater than 90% of those with the condition also have sensory processing disorders. This can lead to high levels of anxiety and arousal, leading to tantrums and meltdowns, and even self-injurious behavior. But the company says that a growing body of research has found that deep touch pressure treatments "act as a calming or focusing agent for individuals coping with sensory integration problems."
Stuart Jackson, the businessman behind the Sensory Chair, told The Kansas City Star he is hoping to get them to market by the end of the year.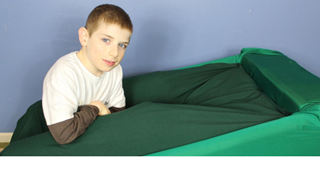 Chair That Mimics Hugging May Help Those With Autism
In the year and a half or so since students in a Blue Valley school district engineering program helped bring it to fruition, the Sensory Lounger has enjoyed quite a run. Now, the man behind the chair — which provides the kind of full-body, deep-touch pressure many children with autism crave — has even bigger plans.
Stuart Jackson, a local businessman and driving force behind the project who has worked closely with the students in the Center for Advanced Professional Studies (CAPS) program, recently formed a business, the Sensory Chair Co., with an eye toward getting the chairs to market.
Sign Up for Free e-newsletters