September 22, 2014
Birth Size Can Influence Risk of Developing Autism, Schizophrenia
the Psychiatry Advisor take:
Birth size may influence whether one develops autism or schizophrenia.
Researchers at the University of Copenhagen and Yale University found that bigger babies are at an increased risk of autism, while smaller babies are more likely to develop schizophrenia. They based their results, published in the Proceedings of the Royal Society B, on an analysis of 1.75 million Danish babies.
The reason why may be explained by a theory in evolutionary biology that is gaining steam. It holds that the size of a baby is shaped during early development of the fetus between a "tug of war" between maternal and paternal genes. The size may also influence human behavior.
The theory holds that paternal genes favor larger babies, which might boost autism risk, while maternal genes favor smaller babies, possibly increasing the changes of developing schizophrenia.
"The theory isn't generally accepted yet, but I think there is a growing awareness that this sort of variation may be underlying some forms of human behavior, only grading into mental disorders at the extremes," Stephen C. Stearns, PhD, an evolutionary biologist with Yale and study co-author, told SciTech Daily.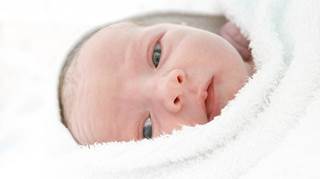 Birth Size Can Influence Risk of Developing Autism, Schizophrenia
A new study from Yale University shows that bigger babies do have increased risk of
autism
, while smaller babies are more likely to develop
schizophrenia
. The size of babies and even human behavior may be shaped during early fetal development by a molecular tug of war between paternal and mat
Sign Up for Free e-newsletters