March 10, 2015
Biomarkers Identified Could Lead to Blood Test for Autism
the Psychiatry Advisor take:
Researchers have discovered blood-based genomic biomarkers in infants and toddlers with autism spectrum disorders, leaving open the possibility that a blood test could be developed to help identify youngsters at risk for developing the condition.
Eric Courchesne, PhD, director of the Autism Center of Excellence at University of California, San Diego School of Medicine, and colleagues conducted a proof-of-concept study that used a unbiased systems biology-based method to search for genes and gene pathways in blood samples that best differentiated autism children from typically developing peers. The researchers measured leukocyte (white blood cell) RNA expression levels.
In two different analyses of the samples from young boys, the first assay had an autism genomic signature (accuracy rate in identifying autism) 83% of the time, the researchers reported in JAMA Psychiatry. In the second assay, the figure was 75%.
The accuracy, according to the researchers, is higher than other behavioral and genetic screens currently available.
"Our present study shows examination of the gene expression profiles at the very early age of initial clinical detection reveals both strong evidence of early biological processes in [autism] and abnormal signals with the potential to serve as an early, practical biomarker of risk for the disorder in general pediatric settings," Courchesne said in a statement.
The next steps for the researchers are to further refine the process and identify diagnostic risk markers in females.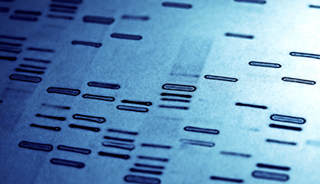 Biomarkers Identified Could Lead to Blood Test for Autism
In a study published in the current online issue of JAMA Psychiatry, an international team of scientists, led by researchers at the University of California, San Diego School of Medicine, report finding a highly accurate blood-based measure that could lead to development of a clinical test for autism spectrum disorder (ASD) risk in males as young as one to two years old. The test could be done in community pediatric settings.
The degree of accuracy, they said, out performs other behavioral and genetic screens for infants and toddlers with ASD described in literature.
The causes of ASD are complex and diverse, making it difficult to conclusively diagnose the disease much before a child's fourth year of life. Indeed, the median age of diagnosis in the United States is 53 months.
Sign Up for Free e-newsletters
Check out what's trending