June 04, 2015
Functioning in Autism May Be Influenced By Child's Stress Level
the Psychiatry Advisor take:
Lower-functioning children with autism spectrum disorder appear to experience more stress than peers with the condition but who are higher functioning.
While earlier research has indicated that many people with autism have high stress levels, and with it, greater anxiety, researchers from the Institute for Autism Research at Canisius College in Buffalo, N.Y., say that lower-functioning children with autism have higher levels or cortisol, the body's stress hormone, than other peers with the condition and typically developing children.
Susan K. Putnam, PhD, the study's lead author, and colleagues measured the stress levels throughout the day (morning, midday and evening) by analyzing salivary cortisol samples over four days. Thirteen low-functioning autism children (IQ below 70), 16 high-functioning children with autism (IQ 85 and higher) and 14 typical children were enrolled in the study.
In most children, cortisol levels are highest in the morning, then decrease in the middle of the day and further decline at night.
The lower-functioning children with autism had significantly higher cortisol levels throughout the day than their higher-functioning peers and typical children, the researchers reported in the Journal of Developmental and Physical Disabilities. Cortisol levels did not differ significantly between the higher-functioning kids with autism and the usual children.
The researchers said that the findings suggest that differences in cortisol levels and stress may be linked to a child with autism's functional level. They added further study is needed to determine if the elevated cortisol in the lower-functioning kids is the result of deeper neurological issues and/or greater sensitivity to stressors in the environment.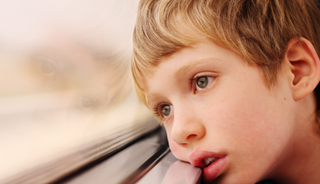 Functioning in Autism May Be Influenced By Child's Stress Level
Researchers at the Institute for Autism Research at Canisius College have found that functional level appears to play a critical role in the stress levels of children with autism spectrum disorder (ASD). Specifically, lower-functioning children with ASD (LFASD) exhibited significantly higher levels of cortisol, the primary stress hormone in humans, than both high-functioning children with ASD (HFASD) and typical children.
Prior research has suggested that individuals with ASD experience elevated stress and related problems such as anxiety, however, many of the studies relied on informant rating scales and behavioral observations which have significant limitations for children with ASD. Attempts to more directly measure stress in this population using physiological measures such as cortisol have yielded mixed results.
Sign Up for Free e-newsletters
Check out what's trending