October 06, 2015
Repetitive Training Not Ideal Autistic Kids
the Psychiatry Advisor take:
Repetitive learning, a common approach to learning used on children with autism spectrum disorder, may be the wrong approach.
A new study in Nature Neuroscience posits that repeating information may harm children with autism's ability to apply learned knowledge to new situations.
"There have been few systematic investigations into the fundamental mechanisms by which information is acquired by ASD individuals — and into the potential reasons for their restricted, atypical learning," Marlene Behrmann, PhD, of Carnegie Mellon University, Pittsburgh, Penn., said in a statement.
In research conducted by Behrmann and colleagues, high-functioning ASD adults and control participants were trained to find the location of three diagonal bars surrounded by horizontal lines. Both groups were asked to identify the diagonal bars during eight daily practice sessions and their speed and accuracy were measured.
The bars stayed in the same location for the first four days and were moved to a second location in the display for days five through eight. For the first four days, learning was the same for the ASD and control groups. However, the autistic kids performed poorly when the target location was changed and they were not able to improve their performance, an indication that they received no benefit from initially learning the first location.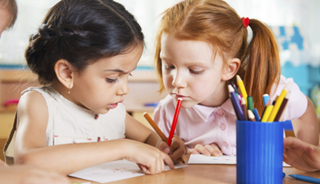 A study posits that repetitive learning, which is commonplace with autistic children, may hinder their ability to apply information to new contexts.
Learning new behaviors or skills is often challenging for individuals with autism spectrum disorder (ASD) as they have trouble transferring a learned skill or information to a new context.
For example, children with autism can be taught what a dog is by showing them a picture of a dog and repeating the word "dog" over and over. But, when they are then taught what a cat is or even shown another type of dog, the previous knowledge does not transfer, and they have to learn this information from scratch.
Now, a new study published in Nature Neuroscience shows that training individuals with ASD to acquire new information by repeating the information actually harms their ability to apply that learned knowledge to other situations.
Sign Up for Free e-newsletters
Check out what's trending