August 25, 2015
Autistic Traits May Be Connected to More Advanced Creativity
the Psychiatry Advisor take:
People with autism may possess more creative skills than those without the condition.
Catherine Best, PhD, of the University of Stirling, England, and colleagues examined data from 312 people who completed a questionnaire on autistic traits. The participants were also asked to think of as many alternate uses for paper clips and bricks to measure divergent thinking. The ideas were then assessed by researchers for uniqueness.
Although those who were found to have a high number of autistic traits came up with fewer ideas, the ones they offered were more unusual and original than those with fewer autistic traits, the researchers reported in the Journal of Autism and Developmental Disorders.
"It should be noted that there is a lot of variation among people with autism. There can be people whose ability to function independently is greatly impaired and other people who are much less affected," Best said in a statement.
"Similarly, not all individuals with the disorder, or the traits associated with it, will exhibit strengths in creative problem solving. Trying to understand this variation will be a key part of understanding autism and the impact it has on people's lives."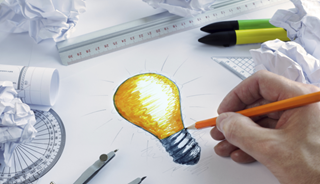 Although people with a high number of autistic traits may have fewer creative ideas, the ones they come up with are more unique.
New research suggests individuals with autistic traits may have more advanced creativity skills than those without such traits.
Previous studies have suggested that people with autistic traits — but who do not meet the criteria for an autism diagnosis — may possess greater cognitive skills than those without such characteristics.
According to Dr. Catherine Best, health researcher at the University of Stirling in the UK, this latest study builds on those previous findings, suggesting people with autistic traits have greater creative problem-solving skills.
Sign Up for Free e-newsletters