May 15, 2016
Synthetic Cannabinoids: A Public Health Concern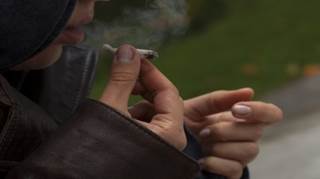 The increased use of synthetic cannabinoids presents a public health threat.
ATLANTA, Georgia — Ease of availability of synthetic cannabinoids (SCs) is contributing to their increasing and widespread illicit use, particularly in urban environments. Use of these agents has been associated with such psychiatric manifestations as auditory hallucinations, aggressive behavior, and increased impulsivity. Although classified as Schedule 1 substances and labeled as not being for human consumption, the pervasive use of SCs continues to present a threat to public health.1
In an attempt to explore the clinical implications and societal impact of these mind-altering substances, Sabina Fink, MD, of the Bronx-Lebanon Hospital Center in New York City, and colleagues conducted a retrospective chart review at their institution, identifying patients admitted to the inpatient psychiatric unit with self-identified SC use.2
The research was presented at the 2016 Annual Meeting of the American Psychiatric Association (APA), in Atlanta, Georgia.
A total of 113 patients (71% men, 28% women) were assessed; 65 patients self-identified as SC users and 48 controls reported no use of SC. Psychiatric comorbidities included schizophrenia (30%), substance-induced mood/psychotic disorder (22.6%), schizoaffective disorder (21%), bipolar disorder (18.9%), and major depression (4.5%). Compared with the control group, participants who used SC were found to have significantly increased use of marijuana (81.3% vs 36.3%), tobacco (57.8% vs 21.3%), alcohol (48.4% vs 19.1%), and cocaine (37% vs 19.1%), all P<.001.
General characteristics associated with SC use included male gender, younger age, and a comorbid substance use disorder.
Compared with controls, hospital outcomes for patients who used SCs were significantly increased for use of intramuscular medication delivery (53% vs 27.7%) and use of seclusion and/or restraints (25.6% vs 4.3%). Following hospital discharge, SC users demonstrated increased engagement in assisted outpatient treatment programs (31.3% vs 2.1%). Although not statistically significant, length of hospital stay was increased in SC users vs controls.
Psychiatry Advisory discussed these findings with Dr Fink, who explained, "What this study has shown us is that there are many different aspects that we need to consider. Most importantly, does the patient know what the synthetic cannabinoid is doing to his or her body and mind? One of our jobs as physicians is to educate both our patients and colleagues about what to expect when encountering a patient while intoxicated."


Although limitations to the study include the small sample size, single study site, and retrospective study design, as well as self-reporting of SC use, the outcomes prompt a need for increased awareness about this public health concern. The research team at Bronx-Lebanon Hospital is currently coordinating lectures on the long-term neurocognitive effects of synthetic cannabinoids to address this issue with the greater multidisciplinary team. Clinical and patient education will serve to inform the community about the dangers of SCs and assist clinicians in recognizing the different clinical presentations of SC users.
Click here for more research from the 2016 Annual Meeting of the American Psychiatric Association.
References
1. Fattore L. Synthetic cannabinoids—further evidence supporting the relationship between cannabinoids and psychosis. Biol Psychiatry. 2016;79:539-448.
2. Fink S, Patel R, Cheema R, et al. Clinical characteristics of synthetic cannabinoids users on the inpatient psychiatric service. Poster presentation at: 2016 Annual Meeting of the American Psychiatric Association; May 14-18, 2016; Atlanta, GA. P1-001.