September 18, 2015
Testosterone Aids Those With Social Anxiety
the Psychiatry Advisor take:
The hormone testosterone may be able to aid people suffering from social anxiety disorder.
Dorien Enter, a PhD candidate at Radboud University, Nijmegen, The Netherlands, and colleagues, enrolled 28 women, half with social anxiety disorder and half without, into a study. All participants received testosterone, and then a placebo, or vice versa. They were then asked to look at angry, happy and neutral faces on a computer screen to see which subjects avoided eye contact through eye tracking.
Testosterone is known to have an anxiety-suppressing effect and facilitates contact in social situations.
Participants with social anxiety disorder who received testosterone avoid eye contact less often than when they received a placebo, the researchers reported in the journal Psychoneuroendocrinology. Also, the anxious patients' gaze avoidance after placebo was associated with more severe symptoms, though this relation was eliminated after they were given testosterone.
"What we would now like to investigate is whether testosterone can be helpful as supplemental support for exposure-therapy sessions, in which people try to overcome their anxiety through exposure to social situations that they would normally avoid," Enter said in a statement. "We think that an extra dose of testosterone might help people cross this threshold."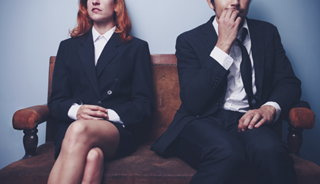 After receiving a dose of testosterone, participants with social anxiety disorder were less likely to avoid eye contact.
Testosterone makes people with social anxiety disorder less likely to avoid the gaze of other people. This is one of the conclusions of a study by behavioral scientists at Radboud University. The study is the first to demonstrate that testosterone can help people with social anxiety. The scientific journal Psychoneuroendocrinology published the results online on 16 September.
Previous studies on healthy people have indicated that testosterone facilitates contact with other people. It has also been shown that people with social anxiety have less testosterone than healthy people do, and that they are highly likely to suffer from social avoidance.
Sign Up for Free e-newsletters