December 22, 2014
SSRI Exposure During Pregnancy Influences Offspring Anxiety
the Psychiatry Advisor take:
Although they work the same way, selective serotonin reuptake inhibitor (SSRI) antidepressants appear to differ in how they impact anxiety in the offspring of women that use them during pregnancy.
Anne Andrews, PhD, of the Semel Institute for Neuroscience and Human Behavior at the University of California, Los Angeles, and colleagues, examined the impact of two popular SSRIs, fluoxetine (Prozac) and escitalopram (Lexapro), in mice in a model similar to third trimester medication exposure in humans.
Mice born to mothers that had been given escitalopram had permanent changes in serotonin neurotransmission and were less anxious as adults than the mice exposed to fluoxetine, the researchers reported in the journal Neuropsychopharmacology.
"It might be possible that when mothers are treated for depression or anxiety during pregnancy that certain SSRIs may promote resilience to developing these disorders in children later in life," Andrews said in a statement. "However, it will take much more research for us to understand whether this is true and whether certain SSRIs may be better at promoting these effects."
The researchers believe that early exposure to fluoxetine may alter the way serotonin neurons activate brain regions involved in mood and anxiety behavior. They also plan to investigate other SSRIs, including paroxetine (Paxil) and (sertraline) Zoloft.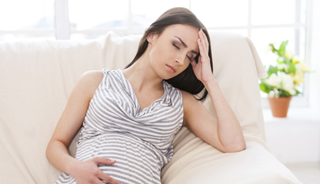 SSRI Exposure During Pregnancy Influences Offspring Anxiety
Women who take antidepressant during their pregnancy could affect their offspring as they mature into adults, according to a recent study. About 15% of women in the United States suffer from anxiety disorders and depression during their pregnancies, and many are prescribed antidepressants.
The answer to that question is vital, as 5% of all babies born in the United States — more than 200,000 a year — are exposed to antidepressants during gestation via transmission from their mothers.
For the study, researchers from the University of California Los Angeles Health Sciences looked at early developmental exposure to two different antidepressants, Prozac and Lexapro, in a mouse model that mimics human third trimester medication exposure.
Sign Up for Free e-newsletters