January 21, 2015
Moderate Social Media Use Reduces Women's Stress Levels
the Psychiatry Advisor take:
Using social media may reduce stress in women but does not have the same effect on men, according to a new survey from Pew Research.
The survey included 1,801 adults, asking specific questions about how and how often they use social media. The survey also included the Perceived Stress Scale (PSS), which asks how often they have been upset by something happening unexpectedly, felt out of control, etc. in the past 30 days.
There was no correlation between how frequently men used social media and their stress levels. However, moderate social media use lowered stress levels by 21% in women the researchers found.
They defined moderate use as a woman who "uses Twitter several times per day, sends or receives 25 emails per day, and shares two digital pictures through her mobile phone per day."
Although this study did not look at what is causing differences in stress reduction, the researchers hypothesize that it may be due to gender differences in the way men and women use social media. Prior studies have found that sharing both good and bad life events on social media is associated with emotional well-being, and women are more likely to engage in these sharing behaviors.
Despite these positive effects for women, the researchers also found that women were more likely to be aware of negative occurrences in their friends' lives and thus were more likely to feel the effects of others' stress.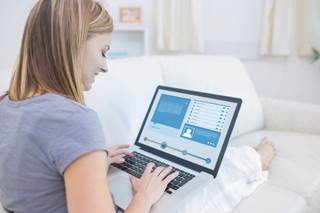 Stress response to social media different in men and women
What's social media doing to us? Is it stressing us out with its never-ending pings announcing new baby pictures, engagements, and unimportant messages to respond to? Or is it keeping us connected to people, and therefore happier? These are tricky and loaded questions, but a new survey from Pew adds a bit of evidence to the "social media reduces stress" side of the ledger. At least if you're a lady.
The survey included a nationally representative sample of 1,801 adults, and in asking them very specific questions about how and how often the respondents used social media, Pew also administered to them a survey called the Perceived Stress Scale, or PSS, which asks how often, in the last 30 days, someone has been upset by something that happened unexpectedly, felt out of control, and so on.
Sign Up for Free e-newsletters