January 23, 2015
Social Media Does Not Directly Raise Stress
the Psychiatry Advisor take:
Using social media does not directly increase stress, but hearing about friends' misfortunes can increase stress, according to a study from the Pew Research Center.
The study included 2,013 adults and was conducted via a phone survey in English and Spanish. The survey included questions about participants' stress levels using the Perceived Stress Scale (PSS), which consists of 10 questions. The PSS can also be seen as an assessment of people's risk for stress-related disorders and illnesses, including depression, anxiety, cardiovascular disease, and susceptibility to infectious diseases.
The findings indicated that the use of social media does not make users more stressed. In fact, the results actually showed that moderate social media use actually decreased stress levels by 21% in women, though it did not have the same effect on men.
However, researchers did find an effect for "the cost of caring," which showed that users can become stressed when they see that their friends are suffering. This effect extended only to women users, indicating that women are more deeply connected online than their male counterparts.
The researchers found that abstaining from social media was not a better option, with those lacking any online presence tending to have fewer close relationships and less connection with their communities.
However, "the cost of caring" may increase users' stress levels.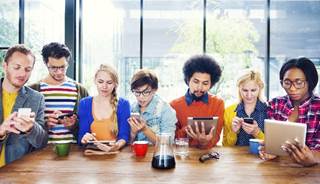 Using social media does not directly raise stress levels.
There has been considerable commentary from critics regarding Internet use and specifically relating higher levels of stress to social media use. However, a study on "the cost of caring," conducted by the Pew Research Center's Internet Project, has found the opposite is true.
Pew is a Washington DC-based nonpartisan think tank. The aim of their research was to explore whether the use of social media, mobile phones and the Internet is associated with higher levels of stress.
The study consisted of a phone survey in English and Spanish and included 2,013 adults. The participants were asked about the extent to which they feel stress in their lives, using an established scale of stress called the Perceived Stress Scale (PSS). The scale is based on answers to 10 questions that assess whether a person feels that their life is overloaded, unpredictable and uncontrollable.
Sign Up for Free e-newsletters
Check out what's trending