July 15, 2014
Psychodynamic, CBT Show Long-Term Efficacy for SAD
the Psychiatry Advisor take:
Just how effective is psychotherapy in treating social anxiety disorder (SAD)? German researchers have recently discovered that cognitive-behavioral therapy (CBT) and psychodynamic therapy were useful in treating SAD, in both the short- and long-term.
Response rates to both treatments were about 70% by the end of a two-year follow-up, and remission rates were about 40%, Falk Leichsenring, DSc, of the Clinic of Psychosomatics and Psychotherapy at the Justus-Liebig University in Giessen, Germany, and colleagues reported in the American Journal of Psychiatry.
A prior study examined CBT, psychodynamic therapy, and a control group, but the purpose of the new study was the follow the patients' progress over 24 months.
"Although in the short-term, intention-to-treat analyses yielded some statistically significant but small differences in favor of CBT in several outcome measures, no differences in outcome were found in the long-term," the researchers wrote.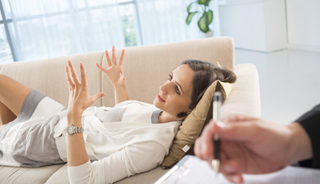 Psychodynamic and Cognitive-Behaviorial Therapy in Treating SAD
Relatively few studies have examined the long-term outcome of psychotherapy in social
anxiety
disorder. The authors previously reported findings of a clinical trial comparing cognitive-behavioral therapy (CBT), psychodynamic therapy, and a wait-list control.
Sign Up for Free e-newsletters