May 01, 2015
Parental Anxiety Can Pass On to Children
the Psychiatry Advisor take:
Anxious and overprotective parents may unwittingly be harming their children as the anxiety may be passed down to them.
That's the key finding of a new study from scientists at King's College London, who looked at parents who were twins, both identical and fraternal. They compared data on anxiety symptoms from children and their parent, and compared this against data from the parent's identical twin and their children in order to determine the effect of genetic versus environmental factors.
Parents who were identical twins had anxiety on similar levels to their own children rather than their nieces or nephews, an indication that family environment is an important factor in anxiety among parents and children, even accounting for genetics, the researchers reported in The American Journal of Psychiatry.
"While a natural tendency when your child is anxious is to try to protect them, it can be more helpful to support them in taking small age-appropriate risks," study head author Thalia Eley, PhD, said, according to the Daily Mail. "This will teach them that the world is generally a safe place and they can manage situations that initially seem stressful, developing their sense of mastery and in turn promoting resilience."
Eley added additional research is needed to determine if anxiety in children induced anxiety in parents, or whether the adolescents learning to view the world in a threatening way because of their parents' behavior.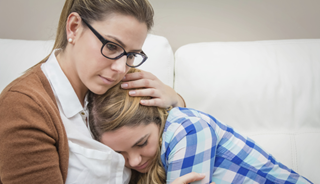 Parental Anxiety Can Pass On to Children
When it comes to being a good mom or dad, there's a fine line between good parenting and smothering your children by being overprotective.
A new study carried out at by scientists at the Institute of Psychiatry, Psychology & Neuroscience (IoPPN) at King's College London has concluded that such parenting can be bad for kids, as anxiety is "catching" and can be passed down.
As the study focused on on parents who were identical twins as well as non-identical twins, researchers were able to distinguish in the study between the influence on children's anxiety as a result of genes as well as their environment growing up.
Sign Up for Free e-newsletters