November 16, 2015
Dads Also Face Anxiety, Depression Risks With New Baby
the Psychiatry Advisor take:
Anxiety experienced before and after the arrival of a new baby isn't reserved for women, as new research indicates that new dads are also very susceptible to it.
Liana Leach, PhD, of the Australia National University Centre for Ageing, Health and Wellbeing in Canberra, and colleagues examined 43 studies involving childbirth, depression, and anxiety. Anxiety before and after birth is as common as depression in men, impacting about 10% of them. That's about half the rate of women, the researchers reported in a study that will be published in the Journal of Affective Disorders.
Leach said that many men don't seek help when they experience anxiety and depression because they think the birth of a child is more about the mother than them. "Men can feel left out of the process, because pregnancy and childbirth are so integrally linked to the mother," she said in a statement.
Some studies have suggested that as many as 20% of new parents experience anxiety or depression.
"Couples should be aware of their mental health right from when they realize they are pregnant," Leach said. "Early intervention reduces the severity and duration of symptoms. Health care during the perinatal period should be about the whole family."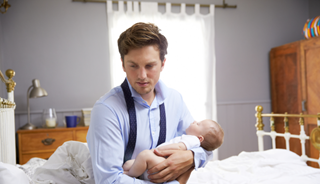 Around 10% of men experience anxiety or depression before and after the birth of a child.
Researchers have found anxiety around the arrival of a new baby is just as common as postnatal depression, and the risks for men are nearly as high as for women.
Mental health researcher Dr. Liana Leach reviewed 43 separate studies and found anxiety before and after a child arrives is just as prevalent as depression, affecting around one in ten men, around half the rate for women.
The causes of
anxiety
and depression around the arrival of a new baby are poorly understood. While results from individual studies vary, some studies suggest over 20 per cent of parents suffer from anxiety or depression. The study, which has been accepted for publication in the
Journal of Affective Disorders
, reinforces the messages of Perinatal Depression and Anxiety Awareness week, which began on November 15, said Dr. Leach.
Sign Up for Free e-newsletters
Check out what's trending