October 20, 2015
High-Fat Diet May Lead to Depression, Anxiety
the Psychiatry Advisor take:
Being overweight and having high blood sugar may contribute to anxiety and depression symptoms, and may even lead to changes in the brain, based on a study in mice.
Bruno Guiard, PhD, of the Research Centre on Animal Cognition at the University of Toulouse, France, and colleagues fed mice a high-fat diet to examine what metabolic and behavioral abnormalities it would bring on. Prior research has shown that the link between type 2 diabetes and depression is bidirectional.
The researchers also examined whether giving the mice the selective serotonin reuptake inhibitor antidepressant escitalopram could reduce any of the metabolic or behavioral impacts of the high-fat diet.
Increased body weight, hyperglycemia, and impaired glucose tolerance in following a high-fat diet was associated with anxiety and depression symptoms in the mice, the researchers reported in the British Journal of Pharmacology. But when the mice were taken off the high-fat diet, their anxiety symptoms waned.
In addition, the high-fat diet appeared to blunt any of the beneficial effects of the escitalopram.
"If we consider metabolic disorders as a putative treatment resistance predictor, this should encourage psychiatrists to put in place a personalized treatment with antidepressant drugs that do not further destabilize metabolism," Guiard said in a statement.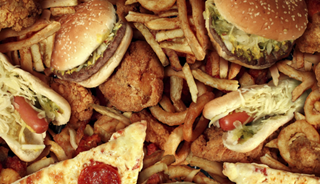 When mice were taken off of a high-fat diet, however, anxiety symptoms declined.
A new study in mice reveals that increased body weight and high blood sugar as a result of consuming a high-fat diet may cause anxiety and depressive symptoms and measurable changes in the brain.
Also, the beneficial effects of an antidepressant were blunted in mice fed a high-fat diet. On the other hand, taking mice off a high-fat diet completely reversed the animals' metabolic impairments and lessened their anxious symptoms.
The results set the tone for future investigations on potential mechanisms that may link metabolic and psychiatric disorders.
Sign Up for Free e-newsletters
Check out what's trending