September 26, 2014
CBT Better Than Medication For Treating Social Anxiety Disorder
the Psychiatry Advisor take:
Cognitive-behavioral therapy (CBT) is more effective than medication in treating social anxiety disorder, according to a new study.
Evan Mayo-Wilson, DPhil, a research scientist at the Johns Hopkins Bloomberg School of Public Health, Baltimore, Maryland, and colleagues conducted a meta-analysis of interventions for adults with social anxiety disorder conducted between 1988 and 2013. A total of 101 trials with 13,164 participants were included.
About 9,000 participants received medication or a placebo, while the remainder received psychotherapy. Relatively few of the trials examined medication in combination with talk therapy.
Among different types of talk therapy examined — including CBT, self-help, mindfulness and psychodynamic psychotherapy — CBT was found to be the most effective, the researcher reported in The Lancet Psychiatry. In addition, it has fewer side effects compared to pharmacotherapy.
"Now that we know what works best, we need to improve access to psychotherapy for those who are suffering," Mayo-Wilson said in a statement. "Greater investment in psychological therapies would improve quality of life, increase workplace productivity, and reduce health care costs."
Researchers also said that for those who decline psychotherapy, antidepressants that are part of the selective serotonin reuptake inhibitors class are the best pharmacotherapy.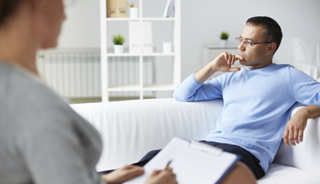 CBT Better Than Medication For Treating Social Anxiety Disorder
While antidepressants are the most commonly used treatment for social anxiety disorder, new research suggests that cognitive-behavioral therapy (CBT) is more effective and, unlike medication, can have lasting effects long after treatment has stopped.
The findings of the study, a network meta-analysis that collected and analyzed data from 101 clinical trials comparing multiple types of medication and talk therapy, are published online Sept. 26 in The Lancet Psychiatry. The research was a collaboration between the Johns Hopkins Bloomberg School of Public Health, Oxford University and University College London.

Sign Up for Free e-newsletters
Check out what's trending