June 11, 2014
ARBs may reduce PTSD symptoms
the Psychiatry Advisor take:
Researchers have studied angiotensin converting enzyme (ACE) inhibitors and angiotensin receptor blockers (ARBs) as a potential therapeutic agents for people with post-traumatic stress disorder since the 1990s, but evidence from meta-analyses thus far have been insufficient to recommend these antihypertension medications as a PTSD treatment.
But a new study suggests the selective angiotensin receptor type 1 (AT1) antagonist losartan may play a role in the extinction of fear memory -- a process known to altered in individuals with PTSD -- and offers new hope about the viability of such treatments for this purpose.
Paul Marver, MD, of the Department of Psychiatry and Behavioral Sciences at Emory University in Atlanta, Georgia, and colleagues, assessed the acute and long-term affects of losartan on fear memory in an animal model.
They performed classical Pavlovian fear conditioning pairing auditory cues with footshocks and examined extinction behavior, gene expression changes in the brain, and neuroendocrine and cardiovascular responses.
Both acute and two-week administration of losartan enhanced the consolidation of extinction memory, but had no effect on fear acquisition, baseline anxiety, blood pressure, and neuroendocrine stress measures, the researchers found.
"These data suggest that AT1 receptor antagonism enhances the extinction of fear memory and therefore might be a beneficial therapy for PTSD patients who have impairments in extinction of aversive memories," the researchers wrote.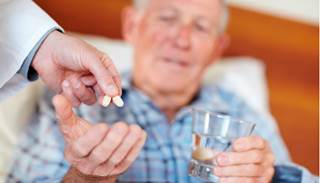 ARBs may reduce PTSD symptoms
There are currently only two FDA-approved medications for the treatment of posttraumatic stress disorder (PTSD) in the United States. Both of these medications are serotonin uptake inhibitors. Despite the availability of these medications, many people diagnosed with PTSD remain symptomatic, highlighting the need for new medications for PTSD treatment.
Sign Up for Free e-newsletters