June 03, 2015
Anxiety is Top Mental Health Issue Among College Students
the Psychiatry Advisor take:
Anxiety is now the most common mental health problem for students in college, based on a study of more than 100,000 students.
The study, conducted by the Center for Collegiate Mental Health at Penn State University, found that more than 55% of students surveyed had sought counseling for anxiety. The next most common concern cited by students to therapists was depression at just over 45%. And stress wasn't far behind at about 43%.
Family, academic problems and relationship issues were also high on the list.
Some of the reasons that anxiety is seen in so many college students could be because of mounting pressures that began in high school, dealing without the support of parents, whom they may have relied on, overbearing parents, and never developing appropriate coping skills, Dan Jones, PhD, the director of counseling and psychological services at Appalachian State University in Boone, N.C., told The New York Times.
"A lot are coming to school who don't have the resilience of previous generations," Jones told the newspaper. "They can't tolerate discomfort or having to struggle. A primary symptom is worrying, and they don't have the ability to soothe themselves."
The number of college students seeking counseling has been rising. In 2010, the Times reported that nationwide surveys found that almost half of such students who went for counseling had a serious mental illness, which was nearly double the rate in 2000.
A 2010 study from the American College Counseling Association also found that 24% of students who sought treatment for mental health issues while on campus were also taking psychiatric medication. In 2000, the figure was 17%.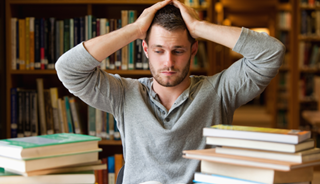 An increasing number of college students are seeking counseling for anxiety.
Anxiety has now surpassed depression as the most common mental health diagnosis among college students, according to the New York Times.
A recent study of more than 100,000 students by the Center for Collegiate Mental Health at Penn State found that more than half of students seeking help at campus clinics report anxiety as an issue, and nearly one in six college students has been treated for anxiety in the last year, according to the American College Health Association.
Mental health counselors say students these days have a harder time dealing with stress than previous generations, in part because of the prevalence of helicopter parents.
Sign Up for Free e-newsletters