January 14, 2015
Vascular Conditions, Stroke May Contribute to Alzheimer's Disease
the Psychiatry Advisor take:
The most common cause of dementia in older adults appears to be a combination of vascular conditions and Alzheimer's-related brain abnormalities, according to a study published in Alzheimer's & Dementia: The Journal of the Alzheimer's Association.
According to prior research, approximately half of the people who die with Alzheimer's disease have shown evidence of stroke in their brains. The risk of dementia is increased when the plaques seen in Alzheimer's occur in combination with stroke.
The researchers have suggested a research agenda to help improve understanding of how Alzheimer's and vascular conditions interact and progress. They hope these recommendations will provide more tools for dementia treatment and prevention.
Particularly, the researchers suggest that research should focus on several key knowledge gaps, including:
The influence of diabetes and insulin resistance on the risk for vascular disease, Alzheimer's, and related dementia.
Genetics factors that may influence vascular processes and other changes in the brain.
The impact of immune system response on blood flow in the brain during the progression of Alzheimer's.
The effect of fat breakdown in the brain on the removal of amyloid build up.
Controlling the effects of vascular risk factors on memory and thinking abilities.
They also note that identifying biological markers of key vascular processes will be integral for research progression. These include ones that can detect amyloid in brain blood vessels, detect changes from dying brain tissue, indicate risk for Alzheimer's in people with prediabetes, and measure the impact of blood flow on the brain.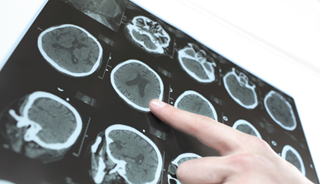 Vascular Conditions, Stroke May Have Implications for Alzheimer's
A growing body of research suggests that the most common cause of dementia in older people is a mix of vascular and Alzheimer's-related brain abnormalities, and that approximately half of people who die with Alzheimer's also have evidence of strokes in their brains.
Furthermore, when strokes and hallmark Alzheimer's plaques and tangles are combined, it increases a person's likelihood of experiencing dementia. Stroke, or as it is known more generally as cerebrovascular disease, occurs with aging and is made worse by conditions like smoking, hypertension or diabetes.
Sign Up for Free e-newsletters
Check out what's trending