February 20, 2015
Turmeric May Reduce Brain Damage in Alzheimer's, PTSD
the Psychiatry Advisor take:
A substance found in turmeric powder may diminish beta-amyloid plaques in the brain and eliminate bad memories, according to two new studies.
The substance, called curcumin, may be helpful in treating Alzheimer's disease and various psychological conditions that stem from fearful memories.
In the first study, the researchers created FMeC1, a molecule similar to curcumin but that has been designed to be delivered directly to the brain. Curcumin currently cannot penetrate the blood-brain barrier, but FMeC1 is a perfluoro compound that can be breathed in and delivered to the brain.
Both curcumin and FMeC1 have the ability to bind themselves to beta-amyloid plaques in the brain and destroy them, thus reducing the damage that can be brought on by Alzheimer's disease.
In another study, researchers fed rats either a normal diet or a diet involving curcumin. They then scared each rat using a particular sound. The rats that ate a normal diet reacted fearfully, but the rats who ate curcumin displayed no fear. The researchers believe that the compound prevented bad memories from being stored in the brain.
The results indicate that a diet enriched with curcumin could be beneficial for patients suffering from psychological disorders related to fearful memories, such as post-traumatic stress disorder.
Previous studies have shown curcumin to be effective in treating a variety of conditions, including breast cancer, bowel cancer, heart disease, and lung damage associated with premature birth. It can also help improve working memory.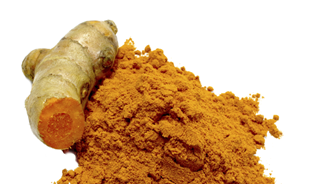 Turmeric May Reduce Brain Damage in Alzheimer's, PTSD
Turmeric powder may help keep the brain healthy, two new studies from the U.S. reveal.
Researchers at the Vanderbilt University Medical Center in Nashville and Shiga University of Medical Science in Otsu, Japan reported in the Journal of Alzheimer's Disease that a substance found in the yellow-colored spice powder called curcumin can help remove beta-amyloid plaques — the toxic proteins responsible for Alzheimer's disease — from the brain.
Amyloid beta, a protein fragment found in the fatty membrane surrounding the nerve cells, is produced during normal brain activity and is also cleared from the brain regularly. However, these proteins build up into plaques as people age. Development of the protein plaques damages and kills brain cells and destroys important function of the brain including memory.
Sign Up for Free e-newsletters
Check out what's trending