October 29, 2014
Trouble Sleeping Could Lead to Alzheimer's Disease in Men
the Psychiatry Advisor take:
Men who have trouble sleeping may be at a higher risk of developing Alzheimer's disease, according to a new study.
Christian Benedict, PhD, of Uppsala University, Sweden, and colleagues examined data on men, who were originally 50 years old, between 1970 and 2010. The men self-reported if they had experienced sleep disturbances.
Men who said they had disturbed sleep were more than 50% more likely to develop Alzheimer's disease and 33% more likely to develop dementia compared with men who slept normally, the researchers reported in the journal Alzheimer's & Dementia. Also, the later in life the sleep disturbances, the higher the Alzheimer's risk.
"These findings suggest that strategies aimed at improving sleep quality in late life may help reduce the risk to develop Alzheimer's disease," Benedict said in a statement.
Earlier work by Benedict and his team showed just how dangerous sleep deprivation can be for brain health. In that study, just one night of total sleep deprivation increased concentrations in the blood of brain molecules that appear when brain damage occurs.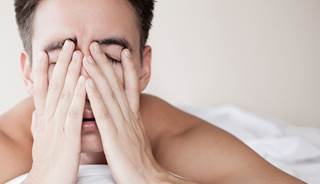 Trouble Sleeping Could Lead to Alzheimer's Disease in Men
In a new study, researchers from Uppsala University in Sweden demonstrate that elderly men with self-reported sleep disturbances run a higher risk of developing Alzheimer's disease than men without self-reported sleep disturbances.
The researchers followed more than 1,000 men, who were initially 50 year old, between the years 1970 and 2010. The results of the study show that self-reported sleep disturbances were linked to an increased risk for Alzheimer's disease during the 40-year follow-up period, particularly if they occurred late in life.
Sign Up for Free e-newsletters
Check out what's trending