March 20, 2015
Strong Results Boost Alzheimer's Drug into Phase III
the Psychiatry Advisor take:
Biogen Idec will begin a Phase III trial of a biologic-based medication for Alzheimer's disease later this year after promising results from a Phase I trial showed that the treatment slowed cognitive decline and reduced beta-amyloid plaque better than those taking a placebo.
Aducanumab, also known as BIIB037, is designed to reduce levels of beta-amyloid, the toxic protein thought to contribute to Alzheimer's, in the brain.
New data released at the 12th International Conference on Alzheimer's and Parkinson's Diseases and Related Neurological Disorders in Nice, France, showed that patients who received the largest dose of aducanumab, saw their score on the Mini Mental State Examination (MMSE), a cognitive test, by an average of 0.58 points. That compared to a 3.14 point decline in patients on the placebo. The difference was statistically significant.
In another measure, the Clinical Dementia Rating sum of boxes (CDR-SB), patients on the highest dose of aducanumab saw that score going down by an average of 0.59 points, compared with a 2.04 point average decline in the placebo group.
"This is the first time an investigational drug for Alzheimer's disease has demonstrated a statistically significant reduction on amyloid plaque as well as a statistically significant slowing of clinical impairment in patients with prodromal or mild disease," Alfred Sandrock, MD, PhD, Biogen's chief medical officer, said in a statement.
The most serious adverse event found with aducanumab was amyloid-related imaging abnormalities (ARIA), which is the presence of fluids surrounding patients' blood vessels in imaging scans.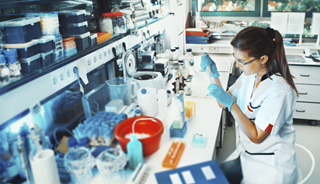 Strong Results Boost Alzheimer's Drug into Phase III
Patients with early and mild forms of Alzheimer's disease taking the strongest dose of an experimental Biogen Idec Inc. drug experienced slower cognitive decline after a year compared with patients who received a placebo in a small, early-stage study, the company said Friday.
Biogen had said in December that the drug, called aducanumab, had produced a statistically significant effect on cognition. But the company had not yet released detailed results. The drug is also known as "BIIB037."
Biogen's drug is designed to help clear the brain of beta amyloid plaques, which many scientists say play a role in causing Alzheimer's, a progressive, memory-destroying condition associated with older age. But the so-called "amyloid hypothesis" is controversial, and other drugs targeted at amyloid plaques have failed in late-stage studies.
Sign Up for Free e-newsletters
Check out what's trending